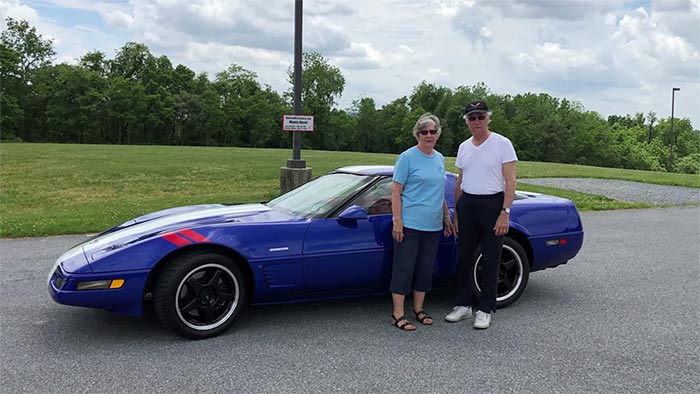 Photo Credit: National Corvette Museum

The National Corvette Museum just became the proud owner of a very rare 1996 Corvette Grand Sport, thanks to the generosity of two longtime members.
Larry and Carol Watkins donated their Admiral Blue (with full-length white central racing stripe) Grand Sport created by Chevrolet as a one-year-only model to help celebrate the end of the fourth generation.
Only 1,000 such cars were produced at the Bowling Green factory, with just 810 coupes like this one.

The Watkins' Corvette also has the further distinction of being one of only six Grand Sports to be optioned exactly like it.
Furthermore, the car has the highly desirable red and black interior that only appeared in 217 of the coupes.
All Grand Sports are notable for their one-year-only LT4 engine that produced 330 horsepower, 30 more than the base LT1. All also were hooked to six-speed manual transmissions.
The Watkinses bought their car sight unseen from Roger's Corvette Center in Orlando, Florida, but they did their research beforehand through a third-party inspector who checked out the car from top to bottom and issued an in-depth report on their findings for the couple. Larry was convinced it was a "very, very good car."

The couple later came to appreciate what the Grand Sport means to others during a trip one year to Corvettes at Carlisle, where a couple of young men thanked them for bringing their car to the show.
Since they weren't driving the car that much, they decided it would be more appreciated by others at the National Corvette Museum.
As the couple presented the keys to the NCM's Director of Collections/Curator Derek Moore, he praised them for their generosity, pointing out that "donations like this help us achieve our goals and our mission here at the Museum."

Source:
National Corvette Museum

Related:
[VIDEO] Woman Donates a 2003 Corvette to the NCM's Educational Program in Memory of Late Husband
[VIDEO] 1954 Corvette Donated to the National Corvette Museum
1981 Corvette Nicknamed the 'Bowling Green Special' Donated to the Corvette Museum