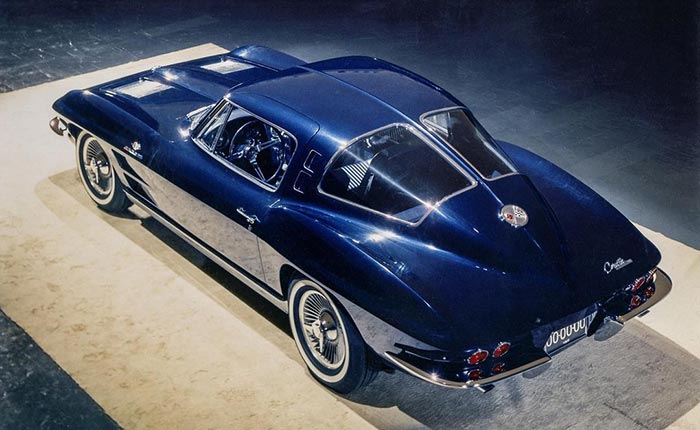 It's been nearly 60 years since GM re-introduced the Chevrolet Corvette fresh off its first complete redesign, which debuted in 1963 with a Convertible model and an all-new hardtop Coupe version. The 1963 Split-Window may have only graced the C2 Corvettes for just its inaugural year, yet the design is considered one of the most iconic automobiles ever produced.
Across town, rival automaker Ford found success in taking their two-seater Thunderbird and stretching it to four-seats, so Chevy's President Ed Cole ordered up a four-seater Corvette concept model in 1962. The model created by designer Larry Shinoda stretched the car with a slightly longer wheelbase and larger doors, and a photo from GM's chief photographer Walter Farynk actually captured the car with occupants in all four seats.
Luckily, Chevy never did build the four-seater. In keeping with Corvette's true identity of being a two-seat sports car, the design study was shelved and the original fiberglass model that appears in these photos was destroyed.

Last week, General Motors Design on Instagram shared these three photos showing a 1963 Corvette that never was and while many other outlets have run the photos, none yet have detailed why the four-seater Corvette was killed. Thanks to an old interview with designer Larry Shinoda, we have the answer:
Ed Cole had a brilliant idea to do a four-passenger [Corvette], so they stretched the car out and it kind of looked like a two-hump camel. They're really pushing at me so because the Ford had the Thunderbird which had gone into a kind of a luxury four passenger car. They had the model all finished and Jack Gordon, who was the President of General Motors, came in one day in his double-breasted suit and everything. He's looking at it and he says Ed…tell me…can a human really sit in that back seat? Ed says, of course, Mr. Gordon and he yanked open the door and tilted the seat forward and Mr. Gordon climbed in sat down and was kind of hunched over in the back. Finally, he says let me out of this thing…for some reason the damn seat jammed up they couldn't get the seat [to fold down], they had to unbolt the seat and he's fuming, because you know, it's all union and the union mechanics had to come and unbolt the seat. When he finally got out of the car, he was totally frustrated…he was madder than hell…and that killed the car, which is kind of good for Corvette fans…

If you want to see the full interview with Larry Shinoda on this and many other subjects, click here.

Source:
General Motors Design / Instagram

Related:
[VIDEO] Throwback Thursday: Corvette Designer Larry Shinoda Tells His Story
[GALLERY] Throwback Thursday: Happy Birthday to Larry Shinoda
Corvettes for Sale: The Corvette America 1980 Four-Door Corvette