Last weekend we received our first glimpse of the new model changes coming to the C8 Corvette in 2021 after a dealer leaked the 2021 specs from the GM Workbench order system. The big news from the leak is that the 2021 model year Stingrays will see two new exterior colors, two interior color combos, multiple new racing stripes, and a new Stinger hood design.
Thanks to Ace at the MidEngineCorvetteForum.com, we have some graphic renderings of how these new options will appear on the new Corvettes. Ace reminds us that this is how HE imagines how these colors and options will look and are not official GM images.
Exterior Colors
First up are the two exterior colors that will see Long Beach Red and Blade Silver replaced with Red Mist Tintcoat (GPH) and Silver Flare (GSJ). Of the two new colors, the Silver Flare is the most dramatic change of the two and it's believed that it's the same color that appears on the No.4 C8.R race car. A new colorchip seems to confirm that Red Mist is more akin to Magnetic Red and we think that color will do very well.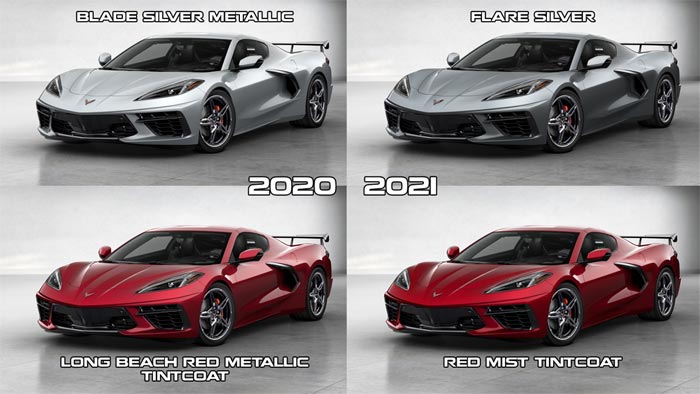 Exterior Stripes and Graphics
Chevrolet already had three full-length racing stripe packages available for 2020 and for 2021 they have added four new stripe colors (Orange, Red, Yellow, and Blue) to go with Carbon Flash, Sterling Silver and Midnight.
A new Stinger hood graphic is also coming in 2021 and we believe the three colors are Carbon Flash/Edge Yellow, Carbon Flash/Midnight Silver, and Carbon Flash/Edge Red. These Stinger graphics will go well with the current Hash Mark graphics that are available in similar colors.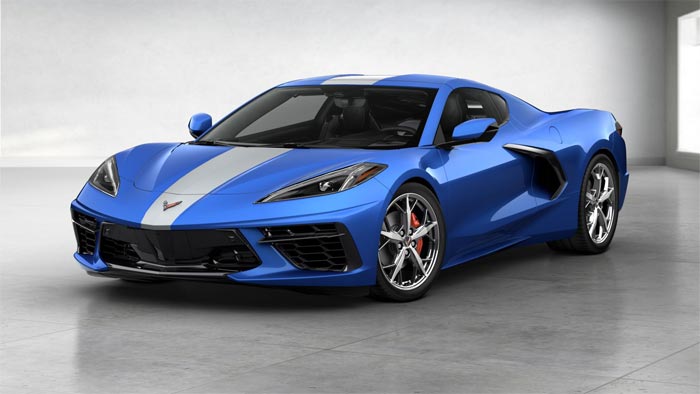 I do think the full-length racing stripes will feature the dual stripe design instead of one big stripe as Ace's renders show. And perhaps the Stinger graphic would have some contours at the front of the stripe much like this rendering on the Stingray R:
Stingray R Graphics
One of the most exciting options to surface for the 2021 model year is the "Stingray R" theme that we believe is the C8 Corvette's first special edition. Although we have no idea what exactly the Stingray R package will look like, we pointed to another fan representation of a Silver Flare Stingray wearing yellow graphics that will possibly carry the "Stingray R" moniker or other representations of the C8.R race car. We also note that the new interior color combo called "Strike Yellow/Sky Cool Gray" (HFC) is most likely the paired interior for the Stingray R package and the fact that its available only on 3LT is another indicator that this special edition may be limited in quantities.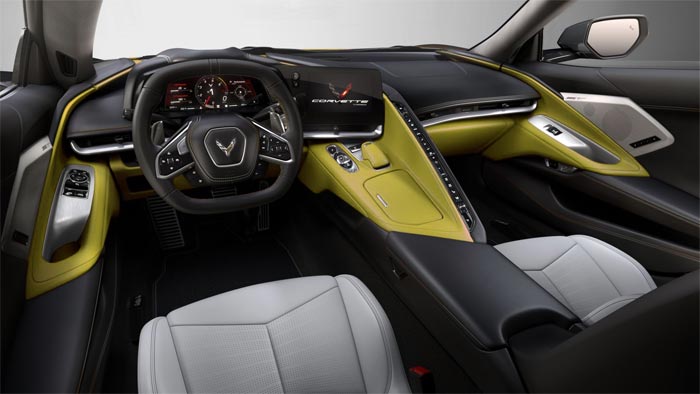 So what do you think of these new options now that we can see them rendered as images? Let us know in the comments field below. And if you want even more conversation about the C8 Corvette, head over to the MidEngineCorvetteForum.com and jump right in with like-minded Corvette enthusiasts.

Source:
MidEngineCorvetteForum.com

Related:
2021 Corvette Options and Two New Colors Leaked
Touch-Up Color Chip Provides First Look at the New Red Mist Exterior for 2021 Corvettes