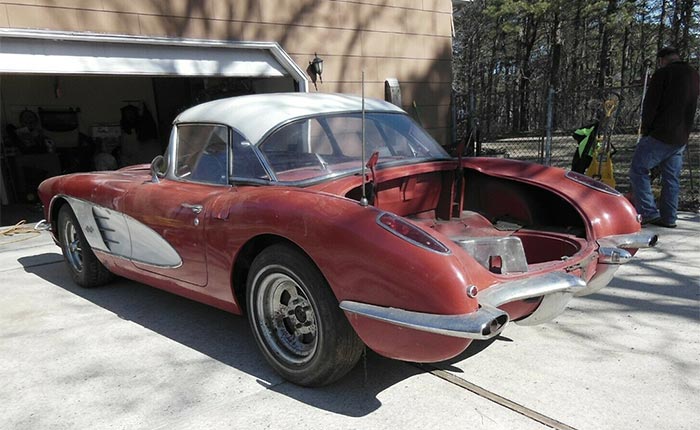 Hidden away and off the road for about half a century, this 1960 Corvette is definitely hoping for better days ahead.
The seller inherited the car from his uncle a few years ago, and now a friend is helping him try to sell it through an auction on Ebay that expires Wednesday. So far, 13 bids have jacked the price to $31,650.

The Corvette was parked inside a commercial space in New Jersey in the early 1970s, where it remained until being inherited by the seller, who then promptly parked it again, uncovered, in a private garage.
The seller doesn't know if the car will run, noting that "no attempts have been made to start the car" since he took possession.

Underneath the hood lies a replacement 327 engine, though the original 283, partially disassembled, is included with the car and hopefully is still in good enough condition to be rebuilt and then put back in its original resting place. Unfortunately, that engine's original twin four-barrel carburetors, intake, and heads are believed to have been removed in the early '70s and are nowhere to be found now.
The seller says he hasn't seen the car on a lift, but notes that the undercarriage doesn't show "inordinate" amounts of rust.

Likewise, he can't assess the condition of the soft top, as he hasn't removed it, but notes that the white hardtop in place has a small crack at the bottom center of the plexiglass, which has been drilled to top the crack.
The trunk lid is also off the car, having been removed at some point to make a fiberglass repair to a hinge.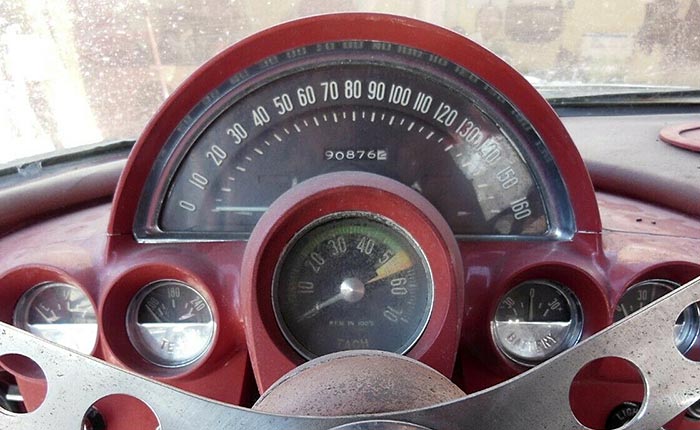 Despite the lack of interest from its owners, the car remains in decent shape. Some 61 years later, it appears to retain its original red paint (with white coves) and red interior, according to the seller, who notes "some cracking" of the paint around the edges. We'd love to see the interior all cleaned up as all the parts seem to be there.
All in all, if the price remains this low, there might be hope for a new owner to get this car on the road again, without crying all the way to the bank.

Source:
eBay Motors via AutoEvolution.com

Related:
Corvettes for Sale: This 1972 Corvette LT1 Spent Nearly 50 Years with its Original Owner
Corvettes for Sale: Any Takers for a 55-Mile 2012 Centennial Z06 for $100,000?
This Matching Numbers 1961 Corvette Fuelie Project Car Was Too Nice to Restomod