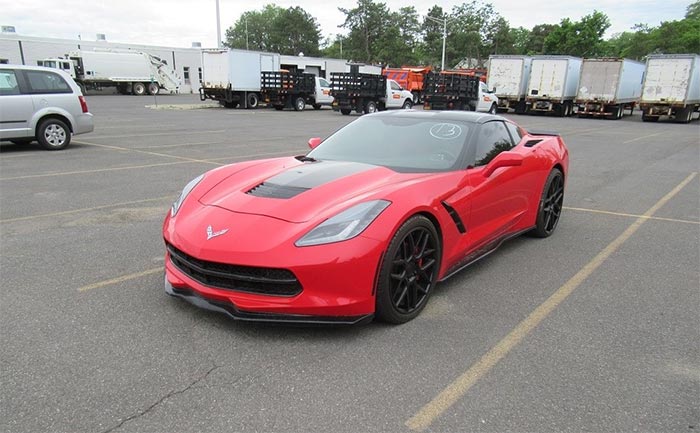 Photo Credit: NYS Office of General Services

Here's a story that you won't find on the CarFax.
Now through June 8th, you have the chance to bid on a 2015 Corvette Stingray that has had some exciting experiences in the 31,320 miles that it's covered since leaving its small Kentucky hometown. The seller is none other than the state of New York, which came into possession of a second-year C7 through unusual means; this isn't a former drug dealer's whip that was confiscated on a police bust.
The tale became truly interesting on a fateful night when an undisclosed number of bandits descended on a Chevrolet dealership outside of the Empire State. Depending on your point of view, the burglars/industrialists either stole or liberated the Torch Red over Adrenaline Red coupe from the showroom after the employees were safe at home. The flashiest car on the floorplan was a sitting duck without the three-pedal, seven-speed theft-deterrent option. The outlaws easily took possession of the LT1-powered beauty and had to make haste! OnStar could shut down the car remotely at any moment, so they needed to point its long hood towards New York and their mark. After meeting their rube, the car changed hands under false pretenses. Sometime later, the buyer tried to register it and was flagged by the DMV for application discrepancies. The C7 and its nervous owner were ordered to head to Rochester for a formal investigation. After a walkaround, Motor Vehicle examiners determined that the VIN had been altered; the owner had been duped into taking possession of stolen goods!

The dealership that never made the OnStar call (inside job?) was tracked down, but by this time, their insurance company had already covered the value of the C7, and they declined the recovery opportunity.
This gave the newly crowned owners (the state of New York) the green light to move forward with an auction. As of writing, 157 bids had only taken the price to $29,400, a screaming deal for one of the hottest used cars on the market! It isn't specified what hoops the next owner will have to jump through to title the C7 or if the VIN was corrected, but if the price is right, this could be your chance to pick up the final front-engine Corvette on the cheap! Place your bid (or just watch the action) right here! This rehabilitated Corvette deserves a good home!

Source:
democratandchronicle.com

Related:
This Matching Numbers 1961 Corvette Fuelie Project Car Was Too Nice to Restomod
Corvettes for Sale: Cordovan Maroon 1968 Corvette Convertible
Corvettes on Craigslist: Barn Find 1993 40th Anniversary Corvette in Maine