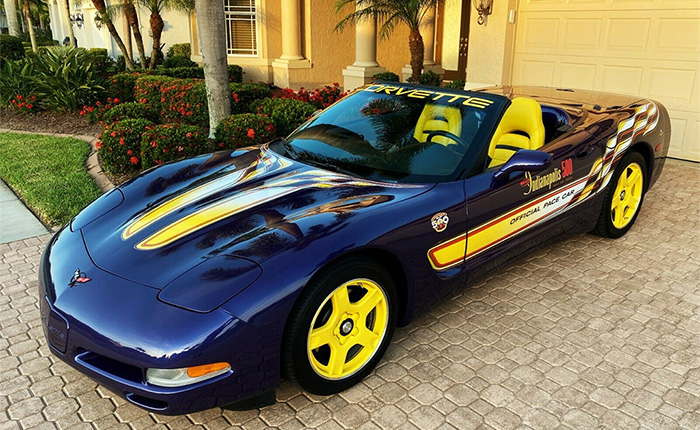 What better way to get in the mood for this year's Indianapolis 500 than to climb behind the wheel of your own 1998 Corvette convertible Indy Pace Car!
This special edition Corvette definitely offers polarizing design elements, but personally, my son and I have loved the look of the '98 Pace Car ever since we first saw those eye-catching yellow seats and wheels and purple body. We'll even go so far as to say it's right up with the '78 Pace Car in the looks department.
Only 1,163 of these Pace Cars were produced at the Bowling Green factory, with the option adding $5,039 to the cost (or $5,754 with a six-speed manual transmission).

Now, there's a low-mileage example for sale on eBay for the next 29 days at the "Buy It Now" price of $37,777 – quite a savings over the original MSRP of $50,744.
This one even includes the rare manual transmission. We don't know how many came equipped this way, but out of the total run of 31,084 cars in '98, just 7,106 had the six-speed manual so it's likely not many of the Pace Cars featured "shift-your-own-gears."

This car has been driven only 14,000 miles, and the seller claims it's "like new."
All the Pace Cars came nice equipped, with the only options being a front license plate frame, a 12-disc CD changer, body side moldings, and magnesium wheels. This car doesn't have any of those extra-cost options, but it does include the standard Pace Car features like exterior Pace Car decals, aluminum yellow painted wheels, memory package, dual power sport seats, active handling package, Bose AM-FM stereo with CD player, digital clock, and electric dual-zone air conditioning/heating.

This one also includes a custom clear protective bra on the entire front end and half of the hood, as well as a custom Corsa exhaust costing more than $2,500 that "sounds insane," according to the listing.
Based on the photos accompanying the listing, the car appears to live up to the seller's claims that it "runs and drives brand new" and "everything works perfect on the car as it should."

Also included with the sale are the original owner's manual, window sticker, and sales brochure.
Furthermore, as you watch the Indy 500 this weekend, you can check out the two collector cards and a postcard that come with the car – all signed by Eddie Cheever, winner of the 1998 Indy 500.

Source:
eBay Motors

Related:
Danica Patrick Will Drive the 2021 Corvette Convertible Pace Car at the 105th Indianapolis 500
[PICS] The 2021 Corvette Convertible is the Official Pace Car of the 105th Indianapolis 500
[GALLERY] Every Indy 500 Corvette Pace Car and its Celebrity Driver (15 Corvette photos)