Photo Credit: James Fowler

For those of you who have ordered a new Corvette and are now waiting for any indication that your order is moving forward, just continue to hang in there as it will be worth it in the end. Talking with buyers over the last year, we know this a bit of an emotional journey fraught with unknowns, and though you talk with others about the process, it may still be a bit confusing.
On the Facebook page Corvette C8 World, James Fowler of Georgia just received his new 2021 Rapid Blue C8 Corvette and it arrived amazingly fast once it was available to ship from the assembly plant. But even more illustrative is that James kept a visual timeline and tracked the key dates of his order from when he put a deposit down on August 1, 2020, until his delivery on April 16th.
We think sharing this will help others more easily understand the various events and levels your order travels until the car arrives at your dealership.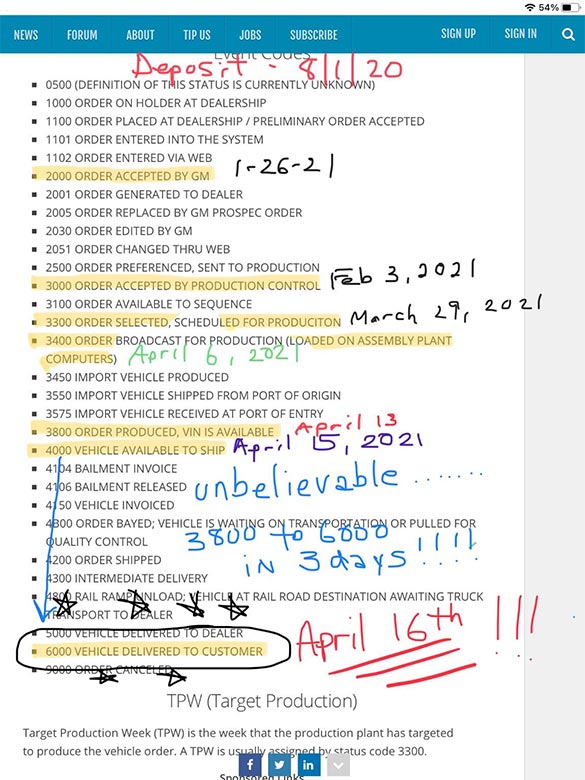 James placed his deposit on the car on August 1, 2020, and it sat at Event Code 1100 until January 29, 2021. The 2021 model year production started in December and his order was officially picked up at the end of January with Event Code 2000, and then it jumped to Event Code 3000 a week later when it "Accepted by Production Control" on February 3rd. However, that's when the plant would shut down for two weeks and then would also be closed for the third week in early March. On March 29, two months after order acceptance, he received Event Code 3300 "Scheduled for Production" and a week later on April 6th it was at 3400, "Broadcast for Production."
James's Corvette was officially produced on April 13th (3800) and following all quality control checks, it was released for shipping on April 15 (4000). It would ship immediately to his dealership in Georgia, which delivered the car to James (6000) on April 16th.
That last part of his order happened just like clockwork and it helps to have your dealer located within a few hours drive of the Assembly Plant. We know others may see delays once it's available for shipping depending on their locations and especially if the car is being shipped out west by rail.
We've seen the Assembly Plant has been cranking out new 2021 Corvettes at a clip of around 183 per day and they have been running at full production since that last shut down in March. Last week, the plant completed 920 new Corvettes and there are a reported 10,000 more to build until the model year ends this summer.
For those of you with orders still pending, have patience as the process is working. Hopefully, your order will start moving soon just like the Rapid Blue 2021 built for James. And congratulations to James on receiving his new Corvette. May it provide years of enjoyment!

Source:
Corvette C8 World / Facebook

Related:
Sebring Orange and Zeus Bronze Are No Longer Available for 2021 Corvette Orders
Corvette is the Fastest-Selling New Car for the Third Consecutive Month
The 2021 Corvette's Average Transaction Price was $86,185 in February