She doesn't share any new information, but Supercar Blondie, with her pink-tinted blonde hair and super-cool British accent, still manages to make her review of the new mid-engine Corvette worth watching to serious enthusiasts.
In fact, her review has garnered nearly 700,000 views, thanks no doubt to some of her nearly 6 million subscribers on YouTube.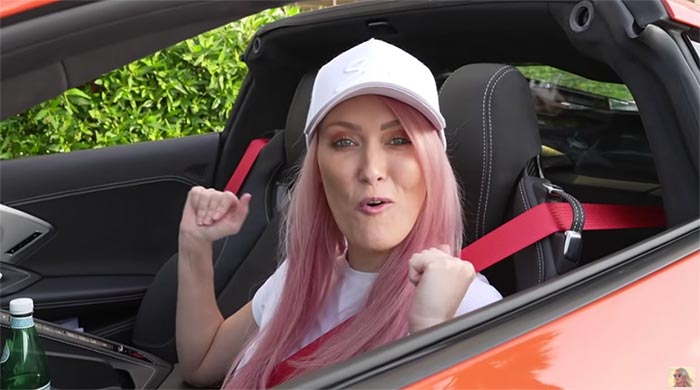 Supercar Blondie reports that she had trouble getting a test car from General Motors, thanks to the insane demand for the C8 Stingray, but was finally able to procure a Sebring Orange example thanks to her friends at Superior Car Rental in Dubai.
She points out all the features of the car that Corvette fans have known for months, but does offer favorable opinions of many features, including all the storage space in the front and rear "boots" as she calls it, the "very cool" supercar looks, the "super cool" squircle steering wheel, the naturally aspirated 495 horsepower engine, and the "insane" starting price of $60,000. In the Dubai market, however, the car is going for double that, though she says you're still getting quite a car even at that price.

On the negative side, she doesn't think the "lo-o-o-o-o-ng" line of buttons on the center console is very intuitive to users though she still likes the look, says she and her team found the bucket seats to be super uncomfortable and complains that the stalk controls on the steering wheel are placed out of reach of normal hand position.
Overall, though, she comes away with a favorable impression of the new Stingray. "I like a mid-engine sports car," she says. "so for me I'm loving the new look of the Corvette."

Source:
Supercar Blondie / YouTube

Related:
Motor Trend Reviews the 2020 Corvette Base 1LT Interior
[VIDEO] Best Doug! Automotive Reviewer Doug DeMuro Names the C8 Corvette is His Favorite of 2020
[VIDEO] Charles Phoenix Takes a Joyride with Patty in Her 1961 Corvette