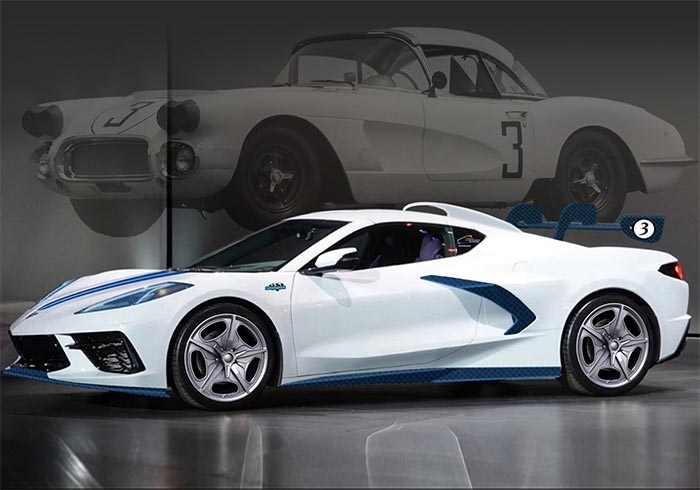 One of the third-party special editions we've been eagerly awaiting is the Cunningham 60th Anniversary C8 Corvette being created on behalf of Cunningham Automotive. The car is a tribute to gentleman racer Briggs Swift Cunningham who took three 1960 Corvettes to Le Mans and won the class and finished 8th overall. Only 60 examples are planned and you can win #33 from the Chip Miller Amyloidosis Foundation.
CorvetteBlogger readers can get 30% Bonus Tickets on orders of $25 or more so get your tickets today or add some more to improve your chances!
The Cunningham C8 Corvettes commemorate the 60th Anniversary of Corvette's historic win at Le Mans in 1960. That year marked Corvette's first true appearance on the global racing stage with a 3-car effort. The #1 and #2 cars had various issues throughout the 24-hour marathon, but the #3 car carried on eventually winning its class and finishing 8th overall.

Today, the famous #3 car resides with the Miller family in Pennsylvania. Its discovery, restoration, and subsequent return to Le Mans were all documented in the popular Michael Brown movie, The Quest. The #2 car is with noted collector Bruce Meyer in California and #1 was discovered several years ago and it will be offered for sale at the Amelia Island auction in May.
The #33 Cunningham C8 Corvette will be offered in the familiar international colors of White with Blue racing stripes. The Z51 coupe will be upgraded by Lingenfelter Performance Engineering to nearly 600-hp with the addition of a Performance Design carbon fiber intake manifold. Dyno testing shows the Cunningham Lingenfelter LT2 motor produces 20% more power at the wheels than the stock C8. The engine produced 512 rwhp and with the average 15% measured drivetrain factors gives us 602 hp vs the stock C8's 495 hp factory rating. Lingenfelter offered up this video as the car was development car was recently track tested:

Other features and equipment on this special edition Cunningham C8 Corvette include CORSA's high flow headers, exhaust, and airbox. The Z51 Brembo brakes are upgraded to Cunningham/MOV'IT brakes while the custom Cunningham Bespoke Aero Kit from Peter Stevens Design provides plenty of downforce to keep the car planted on the track. The throwback kidney bean wheels are from HRE and they are offered in a staggered setup with 20/21s front and rear and wrapped with Michelin Pilot Sport 4s summer-only tires.
Inside is a 3LT trim package upgraded with Cunningham Competition Sport bucket seats swathed in Blue leather with the Cunningham logo and the build number embroidered on the headrest.

Chip Miller was one of the pioneers of our Corvette hobby and co-founder of the Corvettes at Carlisle event. He was diagnosed with a little-known disease called Amyloidosis in December 2003. Sadly, due to complications from Amyloidosis, the world lost an incredibly special human being on March 25, 2004. Had Chip and his doctors been aware of the symptoms of the disease when they first presented, Chip might still be with us today.
Amyloidosis is a rare disease in which amyloid proteins deposit and accumulate in the body's organs and tissue. Just 3,000 Amyloidosis cases are diagnosed in the United States each year. It affects middle-aged people and older, and men are more likely to be affected than women.

The drawing will take place on October 21st, 2021 at 4pm eastern and you need not be present to win. To be entered to bring home this limited-edition 60th Anniversary Cunningham C8 Corvette, all you have to do is to make a donation to the Chip Miller Amyloidosis Foundation. CorvetteBlogger readers can get 30% bonus entries on ticket orders of $25 or more.

Source:
Chip Miller Amyloidosis Foundation