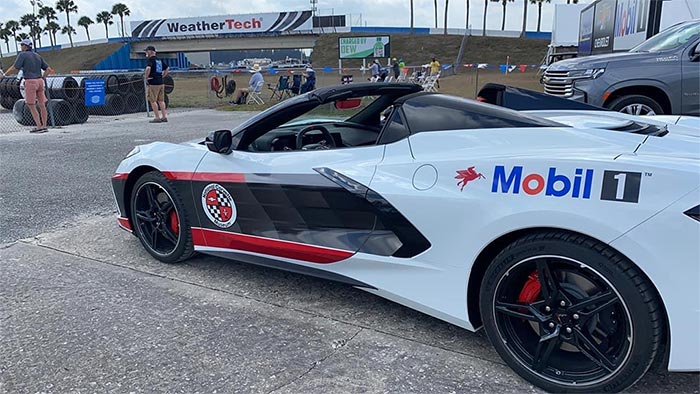 Photo Credit: National Corvette Museum

Last week we were surprised as Corvette Racing unloaded their two C8.Rs with a special Sebring livery to commemorate the 25th Anniversary of the team's partnership with Mobil 1 motor oil. Corvette Racing's special relationship with Mobil 1 has combined for 114 wins around the world, and the new livery for the 12 Hours of Sebring featured both C8.Rs in Gray with Red and White graphics differentiating the No. 3 from the No. 4 C8.R.
Also making its debut at Sebring was a new 2021 Arctic White Corvette from the National Corvette Museum featuring the logos of the NCM and Mobil 1. The specially-designed HTC was on display at the 12-hour race in the Mobil 1 Performance Zone for all the fans to see. The Corvette Convertible includes black and red trim and the famous red Mobil 1 Pegasus rides on the hood and quarter panels while the NCM logo is displayed on both doors.
Mobil 1 has been the official factory motor oil for Corvette going back to the C4 generation. Today, each and every 495-hp LT2 V8 is protected by a painstakingly formulated dexos®-approved Mobil 1 ESP Formula 0W-40, a formulation designed specifically for Corvette engines.
"We see the connection every day at the museum, but many fans haven't experienced how vital some partnerships are in building as strong a heritage as Corvette has," said Jack Matukas, interim President and CEO of the National Corvette Museum. "Whether it's through race cars, road-going models, or stories of famous drivers, the Mobil 1 brand is linked to many firsts for Corvette. Bringing that heritage to life through this custom livery, and here at Sebring no less, well, it's something we'd encourage anyone to take a road trip out to the museum and experience first-hand after the race."
At Sebring, the NCM Corvette Stingray Convertible participated in a number of fun events including leading the parade lap for Corvette owners on Thursday. But the fun doesn't end in Central Florida. Throughout the year, the car will be on display at the National Corvette Museum while also taking part in many Corvette-related events across the country.
"Anyone who has ever driven a Corvette knows how special that experience is," said Cam Bower, strategic global alliance manager at ExxonMobil Lubes and Specialties. "The team at the NCM turns that driving experience into an experience for the whole family, even those who don't have a driving license yet. As a trusted technical partner of the Corvette team for 28 years, bringing in our fellow partners at the NCM to celebrate this occasion here at Sebring was a no-brainer for us. Just like it will be for us to visit the NCM for many of the events and experiences we're partnering together on later this year."

Source:
National Corvette Museum

Related:
Corvette Racing at Sebring: Special Mobil 1 Livery for 12 Hours
[PICS] Corvette Racing Heads to Sebring with New Liveries for the C8.R (And They Aren't Yellow!)
Corvette Racing at Sebring: What Might Have Been