Photo Credit: Mecum Auctions

This 1967 Corvette L88 Coupe in Sunfire Yellow crossed the auction block at Mecum's Glendale sale this Saturday where it hammered sold for $2.45 million. With the buyer's commission, the final price to bring home this rare "holy grail" Corvette was $2,650,000.
The rare 1 of 20 1967 Corvette L88 comes from Corvette Mike's collection and this one has the distinction of being the only one offered in Sunfire Yellow. The Corvette is all original and highly documented with a Bloomington Gold Certification, NCRS Top Flight Award, and the Triple Diamond Award.
This Sunfire Yellow L88 becomes the fourth C2 L88 to sell in recent years for over two million dollars. It's the second one to sell this year after the first production 1967 Corvette L88 famously raced by Tony Delorenzo was sold at Mecum's Kissimmee January 2021 sale for $2.5 million.

This year's sales of the two 1967 Corvette L88s mirrors the two sales that started the run with Mecum setting the record with a Maroon L88 Convertible which sold for $3.2 million. Barrett-Jackson would follow that sale up several months later in January 2014 with the world record sale of a Red 1967 L88 Coupe for $3.74 million.
And because we are keeping a list of recent sales, this Silver 1967 Corvette L88 that was previously part of the Silver L88 Trifecta collection sold for $1.8 million at Worldwide's Scottsdale auction in 2017.
We know of another 1967 L88 Corvette that's on the market and it's among our favorites. Known as the Ultimate L88, the white 1967 Corvette L88 Convertible was famously raced at Daytona and still wears its race livery. The Corvette received a high bid of $3.2 million at Mecum's 2020 Indy auction and we assume it will be offered again at a future Mecum auction.

UPDATE
Thanks to the Detroit Bureau for this update on the buyer of the 1967 Corvette L88. Rick Treworgy of Muscle Car City Museum fame posted the news on the Simply Corvettes Facebook page. He is obviously putting that museum sale money to good use! And for those that are counting, this makes two 1967 Corvette L88s now in his collection.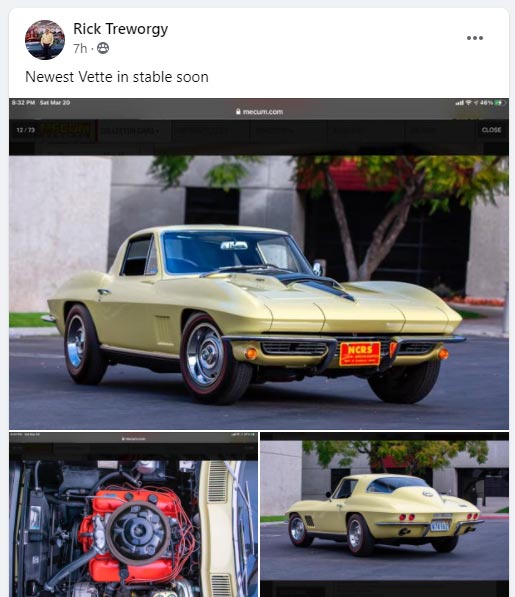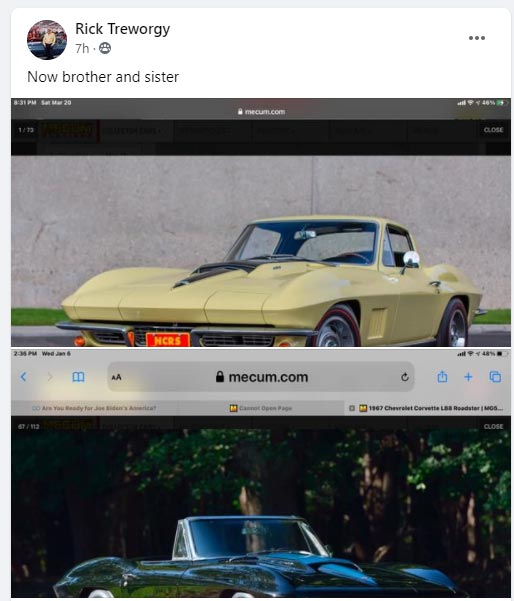 Source:
Mecum Auctions

Related:
Corvette Mike's 1967 Corvette L88 Coupe is Up for Grabs at Mecum Glendale
First 1967 Corvette L88 Sells for $2.5 Million at Mecum Kissimmee
1967 Corvette L88 Convertible Sells for $1.8 Million at Worldwide's Scottsdale Auction