Photo Credits: Travis Raczynski

As a major sponsor of Daytona International Speedway, Chevrolet has the opportunity to display vehicles throughout the facility that includes one of five main entrances called injectors. At the Chevrolet Injector, a 2021 Corvette Stingray greeted fans for today's Rolex 24 at Daytona and our friend Travis Raczynski sent us these great photos to check out.
As you can see, the Stingray is tricked out with the optional High Wing and the 5VM Visible Carbon Fiber aero kit. It's also featuring the Corvette Racing themed graphics package which adds the Jake Center Hood Stripe and the Stingray R graphics. In this case, the Stingray R graphics are shown on the rear of the 5VM's side rocker panels. On a Corvette without the rockers, they would be affixed to the body in the same location.

The graphics package shown here is different than what we've seen previously on the Road America Pace Car which had a C8 silhouette on the rockers and the Stingray R graphic on the left front splitter.
We definitely like the hood graphic with Corvette Racing's Jake mascot front and center. Corvette Racing fans who opt for the $495 package will appreciate not only the look of the Jake stripe but also the bonus of the two side graphics.
Thanks again to Travis for the pics! Let us know your thoughts on the Corvette Racing Themed Graphics Package in the comments below.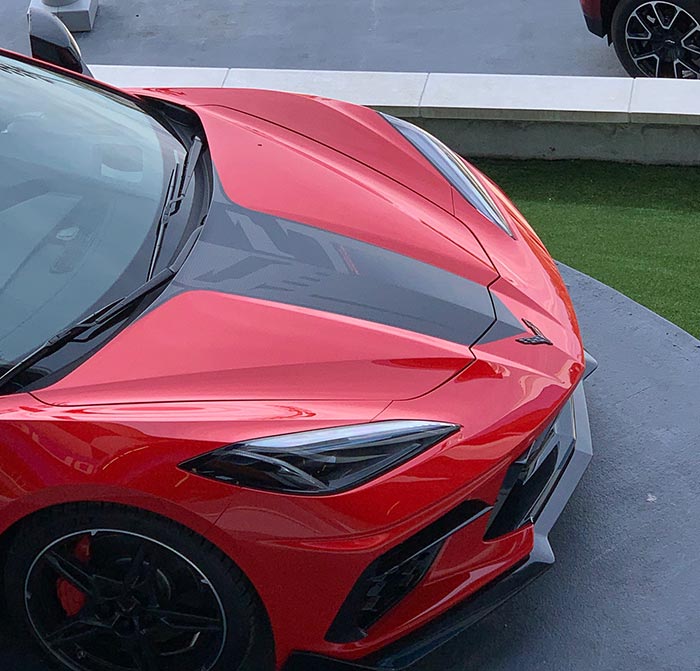 Source:
Photo Credits: Travis Raczynski
Related:
CorvettesC8 CorvetteNewsRumors & Innuendo [SPIED] The 2021 Corvette 'Stingray R' Graphics Shown at Road America
[PIC] First Look at the C8 Mid-Engine Corvette Wearing a Pace Car Livery
[PICS] Corvette Enthusiast Renders the 2021 Corvette Model Year Changes