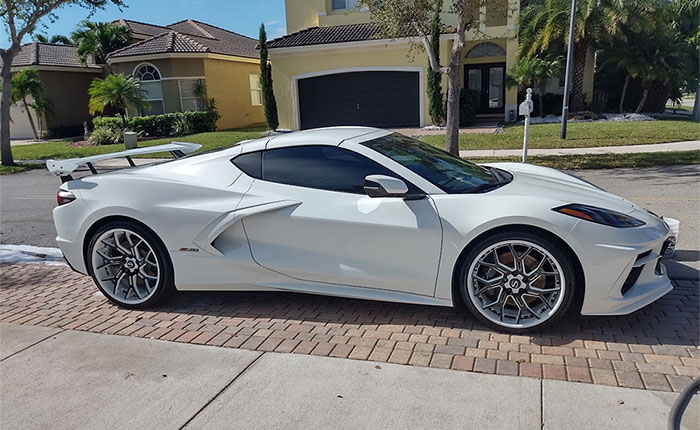 We were cruising through one of the C8 Corvette Owner facebook groups and came across this 2020 Corvette wearing custom wheels. Ivan Hernandez is the car's owner and his Arctic White Z51 Coupe was set up perfectly if you ask us.
Going with a "whiteout" approach, Ivan selected the body-color exterior vents and accents along with the high wing spoiler in Arctic White as well. The tints on the window are perfect for the Florida sunshine and we like the customization with the Z51 badge behind the side air intake's boomerang.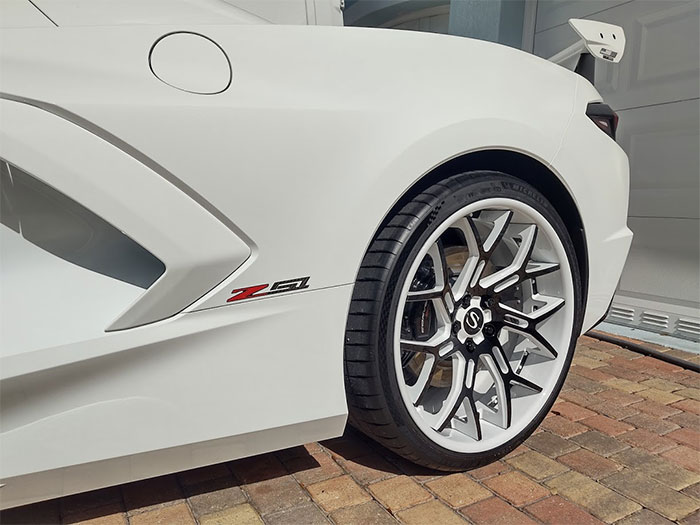 But those wheels, Ivan! They are fantastic and really add to the exotic aura that this car gives off.
Ivan went with a 20/21 staggered set-up from Savini Wheels and particularly the SV72-XLT that allows him to customize eight different areas to get that perfect look his Corvette deserves. That level of customization doesn't come cheap as Ivan says the Italian rims and tires package for the car came in around $8,500.
The site has a wheel configurator and I tried to copy Ivan's design but couldn't figure out the white center insert. Oh well, I am sure he had fun designing them:

So what do you guys think of Ivan's 2020 Corvette Stingray? Let us know in the comments below!

Source:
Ivan Hernandez / Facebook

Related:
[POLL] Should Chevrolet Offer Chrome Wheels on the C8 Corvette?
[PICS] 2020 Corvette on BG Forged RZ21 Custom Wheels in Brushed Gray
[PICS] This Accelerate Yellow 2020 Corvette Shines With Signature Performance Wheels