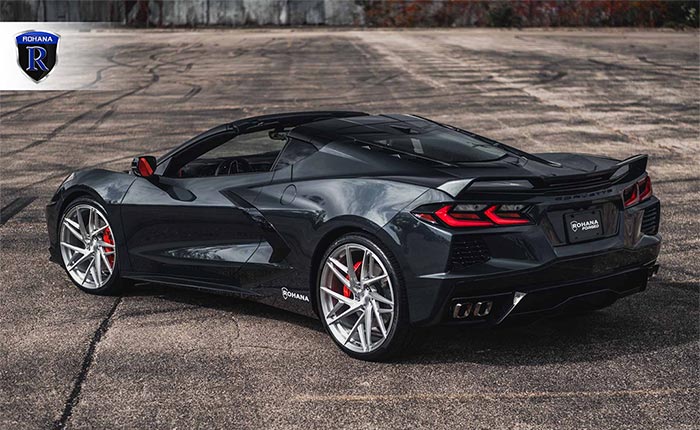 For those of you who prefer a more radical wheel design on your 2020 Corvette instead of Chevy's Trident or Open-Spoke wheels, we have just the ticket on Wheel Wednesday.
This Black 2020 Corvette appears to have some great options including the 5VM Visible Carbon Fiber Aero Kit and 5ZZ Carbon Flash High Wing, but it's the aftermarket equipment that makes this Stingray so interesting.

We know many owners like to lower their Corvette for a better stance, but this owner claims to have the world's first air suspension on a C8 that allows him to drastically lower the car for a slammed effect on demand.
But what we are really here to talk about today is those custom forged wheels by Rohana. The Black C8 is wearing a set of RFG13 Monoblock Forged Wheels finished in "Brushed Titanium." The non-traditional spoke layout adds a bit of chaos while the brighter finish allows them to really shine against the Stingray's black backdrop.

The RFG13 Monoblock wheel is available in 11 specific fitments ranging from 19″ through 22″, and three finishes are offered. Unfortunately, no details regarding the specific set-up on the Stingray are offered, and no prices are shared on Rohana's website.
From Rohana Wheels via YouTube:
Arguably the most desired car for 2020, he just couldn't wait to set it apart from the rest. Air suspension, aero kit and most importantly the RFG13 Unibloc were added to this C8.

Source:
rohanawheels.com

Related:
[PICS] 2020 Corvette on BG Forged RZ21 Custom Wheels in Brushed Gray
[PICS] Zeus Bronze 2020 Corvette with Forgeline's AL301 in Hampton Gold
[PICS] HRE Wheels Offers Near Factory Look with FlowForm FF11 Wheels in Liquid Metal