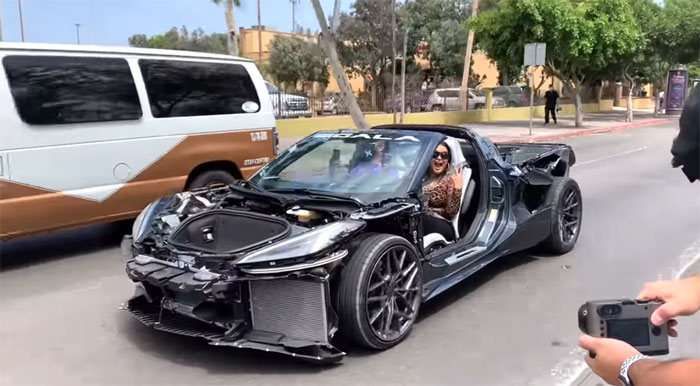 With Halloween just a few weeks away, this "Skeleton C8" got an early jump on the scary holiday.
We told you earlier this summer about the Sigala Designs widebody kit that will be available soon for the new mid-engine Corvette, and now the custom shop has just released a video showing a 2020 Stingray driving around "half-naked" in Mexico while it waits for its new "clothes."
Sigila Designs Corvette C8-RR Widebody

We have to say the Corvette still looks great as we get a peek at its normally hidden inner workings after all the external body panels have been removed, including the roof panel, doors, mirrors, hood, engine cover, and trunk lid.
Road & Track talked to a Sigala spokesman about this car, and they said it will soon be covered nicely with their upcoming C8-RR widebody kit.
Included in that 32-piece package are:
Sigala Vented Hood
Front Bumper Extensions
Sigala Front Lip Extended
Twin Front Splitter Extensions
Sigala Wide Body Fenders
Side Skirt Extensions (2)
Side Splitter Extensions (4)
Wide Body Quarter Panels (4)
Rear Diffuser (1)
Rear Bumper Extensions (2)
Rear Winglets (2)
Hi Rise Wing (3 pcs)
RR Roof
RR Halo
RR Rear Hatch Extensions (2)
Engine Vents
The kits, which can be pre-ordered now to secure your place in line with 50 percent down at www.sigaladesigns.com, are available in Full FRP (Fiberglass) for $14,995, Full Carbon Fiber for $24,995, and Partial Carbon Fiber/FRP (Fiberglass) starting at $14,995 (call for options and upgrades). You can also preview the C8-RR kit with a variety of colors that include Torch Red, White, Black, Blue, Silver, Orange and Green. Sigala also offers installation and paint at its local shop in San Diego.

Source:
Road & Track

Related:
[VIDEO] Sigala Designs C8RR Corvette Widebody Kit Coming in Fall of 2020
[PICS] Rendered Widebody C8 Corvette Shows Potential of Mid-Engine Layout
C8 Corvette Widebody Rendered with a Split Rear Wing and More