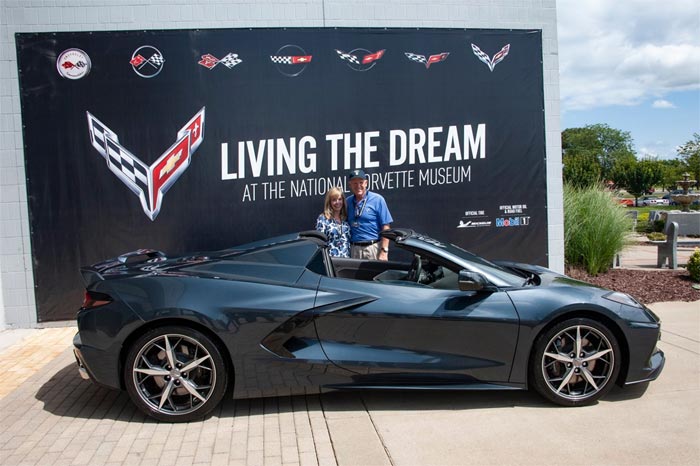 Former General Motors Chairman and CEO Dan Akerson donated his 1958 Corvette seven years ago to help Habitat for Humanity in Detroit.
But now he finally has another Corvette in his garage!
Last Wednesday at the National Corvette Museum, Akerson and his wife Debbie took delivery of one of Chevy's first convertible mid-engine Corvettes ever to be produced, making their initial visit to the popular Bowling Green, Kentucky attraction a very special one indeed. Their new Shadow Gray Stingray features Sky Cool Gray interior and Spectra Gray Machined Trident Spoke wheels.
Akerson joined GM during its 2009 bankruptcy and succeeded Edward Whitacre as CEO, serving in the company's top position between 2010 and 2014, before giving way to current CEO Mary Barra.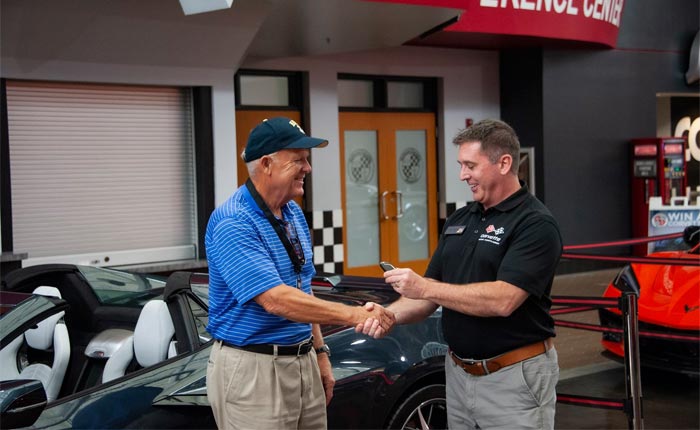 Judging by the big smile on their faces as the Akersons stand behind their new car that was parked in front of a large poster just outside the Museum, they are glad indeed to have a Corvette again after such a long absence.
Dan's '58 – one of just 9,168 made that year and one of only 510 to be painted Regal Turqoise – sold to Corvette Hall of Fame inductee Rick Hendrick for $270,000 at the Barrett-Jackson auction in Scottsdale, Arizona back in January 2013, coinciding with the launch of the new C7. Hendrick has the '58 on display in his personal museum.

"Thank you to Dan and Debbie for sharing your special day with us, and enjoy the ride!" the NCM said in an Instagram post about the delivery of the Akersons' new Corvette.
You don't have to be the Top Dog to get this kind of royal treatment at the NCM, though. Any customer can take advantage of the Museum delivery by choosing the R8C program for $995.

Source:
National Corvette Museum

Related:
[VIDEO] GM Chairman/CEO Dan Akerson Raises $270,000 for Charity with Sale of 1958 Corvette
GM Chairman/CEO Dan Akerson to Sell His 1958 Corvette to Benefit Habitat for Humanity
GM Chairman/CEO Dan Akerson: C7 Corvette "To Be One of the Most Beautiful Cars Ever Made"