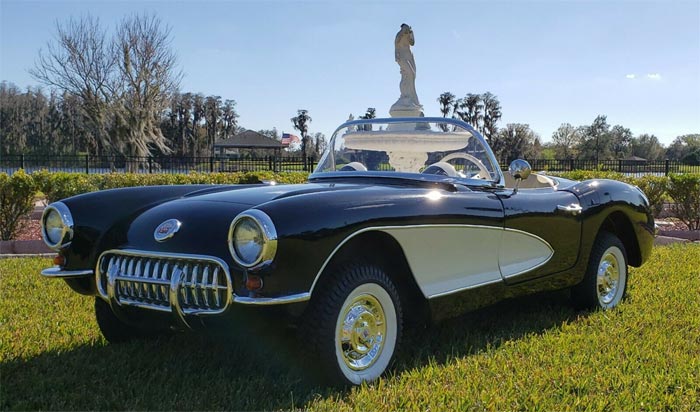 Corvettes seem to bring out the kid in all of us.
Now a company named Mini Cars Inc., is capitalizing on that youthful enthusiasm for America's Sports Car.
They're currently selling a scaled-down version of a 1956 Corvette, done in black over tan interior.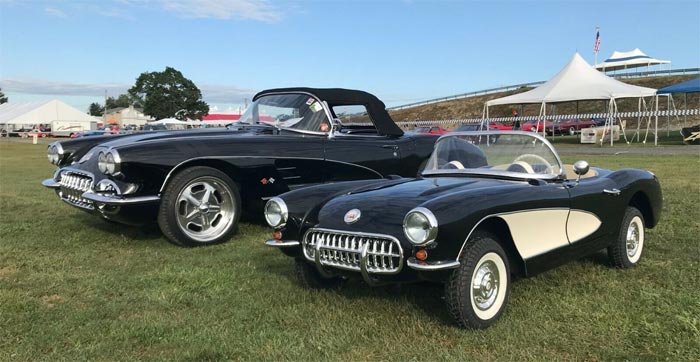 Take a look at the photos, and at a glance, you might think you're looking at a real Corvette! We especially like the image showing the mini-Vette next to a C8 Corvette tractor-trailer, and another showing it next to a full-size version. There's even a photo showing two grown men sitting in the car at the same time!
This 2/3 scale car is currently being auctioned off on eBay, with the latest offer climbing to $6,100. Activity is slated to stop Sunday, Sept. 6 at 4:40 p.m.

Mini Cars Inc. says it's the exclusive U.S. distributor for "these extremely exclusive scaled-down automobiles," noting that less than 50 of them are meticulously hand-built in Brazil each year.
In the listing, Mini Cars says it is "constantly improving the detail of each model" and points out the cars have been sold around the world "to those who seek out the most unique and exclusive products with the best of quality."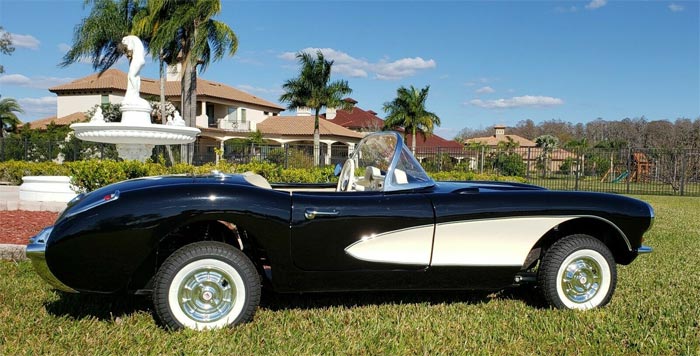 The car is approximately 10 feet long by three feet wide and will accommodate children and adults up to 6-1 and 225 lbs.
With a 107cc air-cooled engine with electric start, the car also features a floor shift 3-speed manual transmission with reverse and gear indicator, full suspension with adjustable shocks, rear brakes with parking brake, working doors, leather-like seating and finished door panels, and complete lights with turn signals and horn.
Be sure to check out the video showing the mini-Corvette doing doughnuts and driving through a parking lot!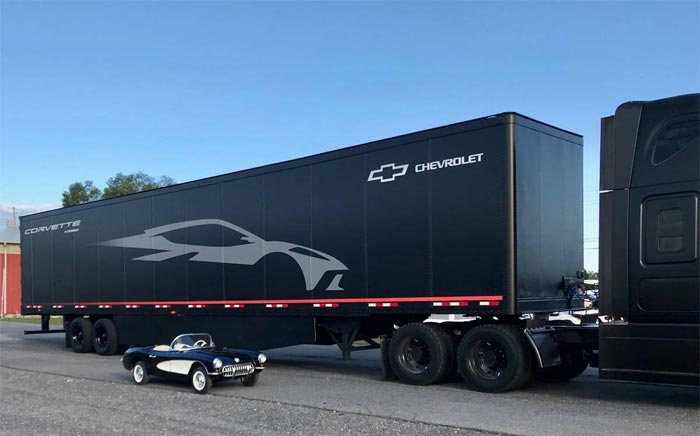 The seller promises "this is a truly unique Mini Car / Go Kart" and adds that "you will never see another in your town."
This Corvette was selected as "People's Choice" at the Carlisle 2019 Corvette Round-Up.
"We have sold these cars at Barrett-Jackson Auctions for an average of $25,000," the seller says. "That shows the quality and detail we build. We stand behind all of our materials and workmanship with an unheard of 10 years parts warranty. We want our customers to worry about nothing but the enjoyment of our automobiles."

Source:
eBay

Related:
[PICS] Kai Spande's Rear Engine 'Corvette' Turns Heads at the Relay for Life Walk
Junior Replicas' 1956 Corvette is a 2/3 Replica Go-Kart of The Real McCoy
[VIDEO] LOL Sorry! There's a Lot Happening in this Corvette Z06 Kart Commercial