Photo Credit: Keith Cornett

Welcome to Quick Shifts! Quick Shifts is a content feature here at CorvetteBlogger featuring links to Corvette and automotive-related stories of interest. The content that we have hand-selected for you this week includes a featured on LA's Pink Corvette-driving Angelyne, Corvette Racing Interviews, Rare Corvette Trivia, the reveal of the Ford Bronco (and Jeep's new V8 contender), the Mercedes AMG GT takes flight, EVO's feature of the Porsche 911 Carrera S vs its rivals (no Vette?), and a throwback comparison featuring the Viper, Vector and the ZR-1 Vette.
FIRST GEAR:
Thanks to a mysterious LA billboard featuring just her name and a suggestive photo back in 1984, Angelyne quickly turned into one of the original celebrities who became famous for being famous. She's well known in our circles for driving pink Corvettes. In a feature on CNET's RoadShow, the Pink Bombshell talks about her Pink Corvettes including the new mid-engine Corvette which she says is coming next year.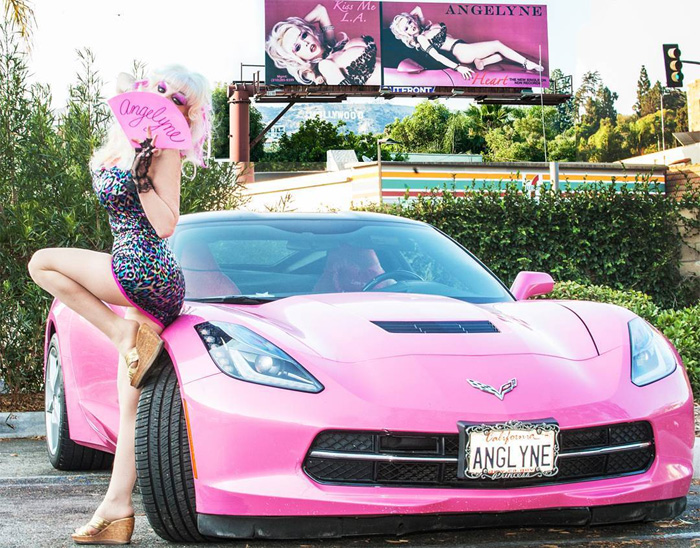 SECOND GEAR:
Next, we will send you in the direction of IMSA.com as they Check in with the 'Vettes, following the 100th win in Corvette Racing history and the first for the new C8.R. This is a must-read that features short interviews with Garcia, Taylor, Gavin, AND Milner. Be sure to give it a look!
Photo Credit: IMSA

THIRD GEAR:
While a good number of our readers could recreate this list from memory, it is still fun to revisit the Five Rarest Corvettes Money Can Buy, courtesy of Automobile.
These interesting tidbits got us thinking that it's been a while since we last posted Corvette Trivia. So, we dusted off an oldie, but goodie, that one of our talented writers created back when he was slinging Corvettes. It expands the number of rare 'Vettes to 25 examples and asks you to fill in how many of each Chevrolet produced. Feel free to break out your Black Book for this one! Best of luck!
Photo Credit: Keith Cornett

FOURTH GEAR:
Our final three forward gears will cover the numerous goings on from the rest of the automotive world. Without doubt, this week belonged to the Ford Bronco. After months of buildup, the new Ford 4×4's hype bomb reached critical mass for the reveal this week and we could fil page upon page of links covering every angle of the inescapable two and four-door models! We have to admit that they nailed the look of the Bronco; it is stunning but we can't help but feel that the motivators leave a bit to be desired. If you want one, we recommend waiting for the Raptor/Warthog.
It was also neat to see Jeep launch a preemptive strike by revealing a 392 Hemi-powered Rubicon but, more so, it just stings to see GM on the sidelines with the Blazer and Trailblazer names tied up on uninspired crossovers. More and more, it seems to be Ford vs. Mopar while the General does it's own thing (with a Sauron-esque gaze on Silicon Valley and Tesla). They still seem to be content with leaving a halo truck (and the piles of cash it could bring in) out of the portfolio while Ram readies a Hellcat-powered F-150 Raptor-fighter.
It is the Corvette that continues to give us comfort and faith in its parent company. No matter how cool the various products that the other two Detroit automakers push out the door are, neither of them has a Corvette!
Also, announced this week, is the humorously medication-sounding name that Ram's parent company will take when they finalize their merger with Peugeot. Finally, we will close out fourth with the business sense behind the disappointing Blazer and why we all need to stop settling, and aspire to be a Bronco!
Photo Credit: Ford Motor Co.

FIFTH GEAR:
Fans of front-engine fast, rejoice because the other, largely overshadowed, reveal of the week Mercedes-AMG took the cover off of the super powered sendoff of the AMG GT (click for details from The Drive). It is the sixth car to receive the illustrious Black Series badge, as detailed by Car and Driver, here. The intense aero kit and 720 HP flat-plane crank V8 are enough to warm the hearts of those still morning the dear departed C7 ZR1, for a while at least.
Photo Credit: Mercedes AMG

SIXTH GEAR:
Comparison and road tests! The last edition of QS lamented the lack of group tests by the major publications these days and EVO stepped up to address our grievances with a five-way comparison! In honor of the all-new, 992 generation Porsche 911 hitting the market, the blokes brought out a welcome wagon consisting of an AMG-powered Aston Martin Vantage, a Camry-powered Lotus Evora, an Audi R8 (with Lamborghini V10 power), and a McLaren 570GT that, surprisingly, runs a McLaren V8. See how the whole thing wound up here and join us in looking forward to right-hand-drive Corvettes arriving in the UK to crash the party, just as the 911's (expensive) armor is starting to show some chinks.
Back stateside, MotorTrend ran a good one on one (we deserve more, ask Jethro Bovingdon how it's done when he returns from EVO's offices) between leaders of another segment that GM is well equipped to enter with almost zero overhead yet refuses; the hi-po SUV. Combatants are the BMW X6 M Competition and the Mercedes-AMG GLE 63 S, two 600+ HP, $115,000+ family haulers that can hit 60 about as fast as a C6 ZR1! See which is better on MT's website and, while you're at it, you should check out the crazy new BMW M8 Competition, a coupe with the same crazy engine as that X6 M, but with slightly less weight to tote. We also have to point out how great the two Bimmer paint colors are in those links!
Photo Credit: EVO Magazine

REVERSE:
For Reverse Gear, we usually comb through the internet's archives for a throwback Corvette review that either pertains to current 'Vette news or that we remember enjoying when it was new but this this time, Road&Track did our dirty work for us. Last weekend, they posted this retro-review from 1992 that starts off with "In the heat of the drawn-out presidential race and the sluggish economic recovery, we found three points of pride for Americans: the new Dodge Viper, the Vector W8 TwinTurbo, and the Corvette ZR-1."
Photo Credit: GUY SPANGENBERG

Perfect! Thanks, R&T and thank you readers! Have a great weekend, Corvette Nation, and if you are fortunate enough to own an example of Chevrolet's "Killer Vee" from the article, make some time to stretch its wings!

Previous Quick Shifts:
Car and Driver's GOAT, Cruising Ohio, Syracuse Show, New Dodge's Previewed, C8 Review, and More!
Track Set-Up Video, Living with a C8, 1000+ HP Crate Motors, Electric Trucks, and a Homeless C6 Z06.
Base C8 Corvette Review, C8 Z06 Pipes, New Mustang and a Mercedes Wagon, C5 Corvette Lifespan and More!