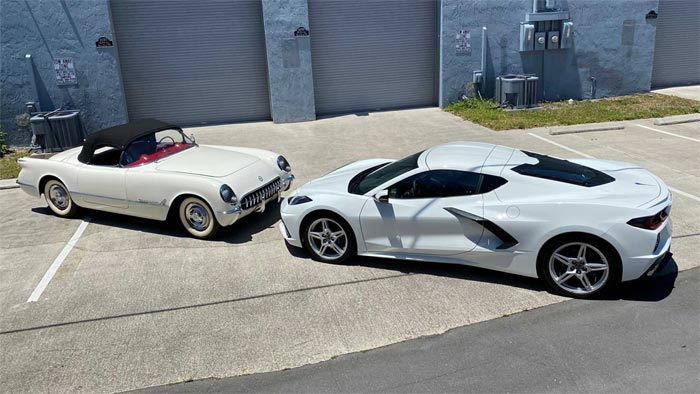 Photo Credits: David D'Onofrio

His first car was a 1967 Corvette with a 427 with a four-speed.
Is it any wonder why David D'Onofrio has been a certified Corvette enthusiast ever since?
David bought that powerful '67 back in 1972, kept it just six months, and then spent the next few decades trying to rectify his mistake of selling it.
While that search was going on in the background, David moved on to many other Corvettes, including #239 out of the 300 built during the first year of production in 1953.

He's owned that uber-rare Corvette since 2012, so when a fellow enthusiast told him last summer about a VIN-matching option available for the new mid-engine 2020 Corvette, D'Onofrio knew that was exactly what he wanted to do.
In fact, since the '53 was pretty well stripped down compared to the cars of today, David decided to order a base 1LT 2020 Stingray (believed to be the first 1LT 2020 produced) to keep that same bare bones theme going (if you can call the base mid-engine car "bare bones"). Naturally, both cars are white with red interiors.
Of course, the VIN numbers have expanded greatly over the years, so an exact match was impossible. But the most important digits, the last three, are the same on D'Onofrio's '53 and his '20 – 239.

After reading about another owner of a '53 who had also taken advantage of the VIN-matching option, with that one being #285, David graciously shared some stunning photos of his two Corvettes and told his story to Christopher Smith of mobil1.com.
It's amazing to take a look at these photos and see just how far the Corvette has come over the past 67 years. Be sure to check them out.

Oh, and about that '67 that David once owned. After a false alarm at the NCM in November 2018, he was finally able to track it down last year, ironically to the enthusiast who had told him about the VIN-matching program to begin with.
And yes, he was able to buy his first car back and now has quite a collection of memorable Corvettes, wouldn't you say?

Source:
Motor1.com

Related:
Matched Set: 2020 Corvette Buyer Orders No. 285 to Match the VIN On His 1953 Corvette
[PIC] Proud Corvette Owner Shares Hilarious 2020 Corvette Adoption Photo
[VIDEO] Man Shares Experience of Owning a 1957 Corvette Fuelie for 47 Years