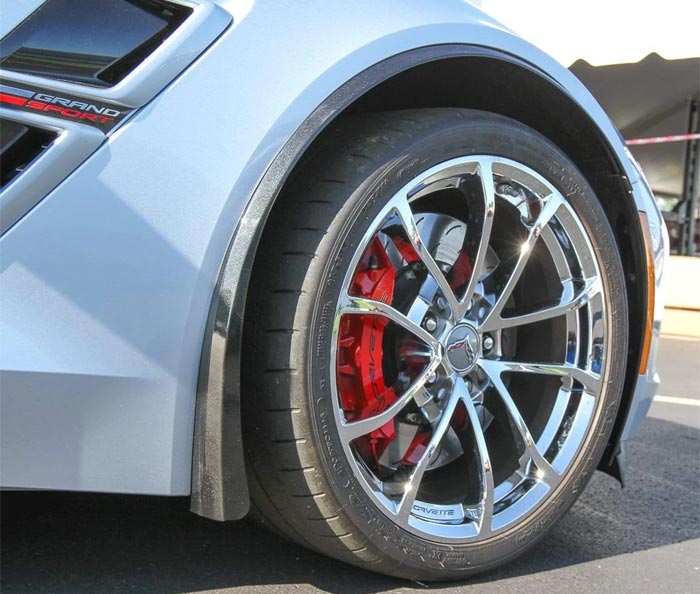 C7 Corvette owners know that the biggest source of paint damage to the cars comes when the sticky Michelin performance tires pick up rocks and other debris and launches them towards the rear of the vehicle. Chevrolet has offered the fender splats and even mudflaps for some protection, but if you really want to protect your C7 Corvette, take a look at ACE Composite's XL Front Fender Extentions for the Z06 and Grand Sport.
The XL Front Fender Extensions combines the XL Front Rock Guards and OEM Front Fender Extensions (mudflaps) into a single continuous piece of protection against rock chips for the C7 Z06 and Grand Sport.

The installation procedure is a complete swap-out and requires no modifications to your Corvette. The panels come as a set and are painted in Carbon Flash Metallic Black to match the other Carbon Flash pieces on the car. Not only does the XL Front Fender Extensions offer a uniform look to your C7 Corvette Z06 or Grand Sport, but you'll be adding one of the most effective ways to protect your car from paint chips.
Our friends at ACS Composite are sharing a new video showing the (easy) install of the XL Front Fender Extensions.

The ACS Composite XL Front Fender Extentions are currently priced at $1,349 for the set of two.

Source:
acscomposite.com

Related:
[VIDEO] ACS Composite Offers the Carbon Fiber 5VM Ground Effects Kits for the 2020 Corvette
ACS Composite Now Offering a C7 Corvette ZR1 Hood for Stingray, Grand Sport and Z06 Models
[VIDEO] Watch ACS Composite Install a Set of XL Front Rock Guards on a C7 Corvette Z06