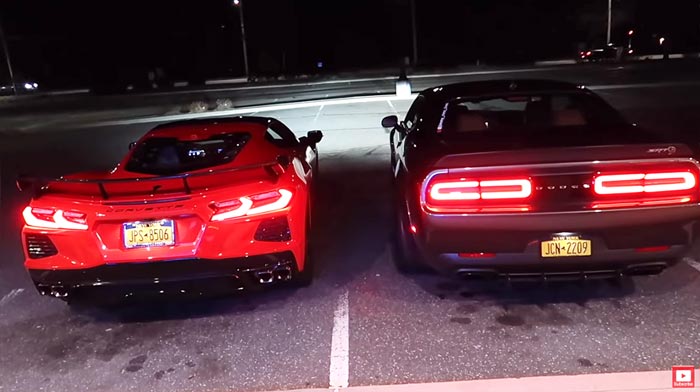 YouTube channel, JMC Rides recently got a 2020 Corvette Stingray together with a Challenger Hellcat Widebody so see which 6.2L V8 has a better voice. Like most things on the 'Tube, this video is pretty unwatchable for the first few minutes, but if you skip ahead to a very Corvette-appropriate 3:27, you will be rewarded for using one of your precious clicks on this content!
After that strategic fast forward, we hear the C8 start-up in Tour Mode followed by a switch to Track Mode and its wide-open butterflies.
Next, the Corvette lets its Supercharged opponent have a turn (anyone else with a toddler at home, be sure to use this as a teaching moment, instantly giving you a fun family video to break up the Mickey Mouse Clubhouse (or similar) marathon that has likely been going on in the background while you are attempting to work from home between neighborhood walk and sidewalk chalk breaks).
The Widebody kittycat brings a slightly deeper roar to the party than the fast-revving 'Vette and at 5:04 we are treated to a glorious duet that makes our red, white, and blue hearts swell with pride!
Once a large "Subscribe" button shows up around 5:50, the video reverts back to time-wasting mode, giving us an extra minute to ponder which star spangled, future classic sounds better. We are pretty sure we can guess which one our commentariat will prefer, but being as this weekend should contain the NCAA Final Four, a Cinderella story just might materialize here in our poll, take part below to find out!
Loading ...

Source:
JMC Rides / YouTube

Related:
Tenneco's C8 Corvette Exhaust System Detailed
[VIDEO] Here's A Black C8 Corvette Z51 Start Up and Exhaust Note For You This Sunday
[VIDEO] 2020 Corvette Exhaust Compilation – Pure Sound!