One of the complaints, if you can call it that, about the new 495-horsepower C8 Corvette is that it's a little too quiet.
But take a look at this video posted by the guys at the Street Speed 717 YouTube channel, and you might have found your solution if the noise levels of the 2020 Corvette are too low for you.
The purists out there will probably have a fit when they see the rear end of a brand new C8 mercilessly torn apart, but if you can get over the heartache of seeing the guts of the Stingray exposed, you'll probably be like the 79 percent of the people who responded "no mufflers" to a Road and Track poll asking which way they preferred.
After a few minutes of reversing the efforts of the hard-working folks at the Bowling Green Assembly Plant, the Street Speed 717 guys manage to remove the exhaust system of the Stingray, leaving only about a foot and a half of exhaust from that beautiful LT2 6.2-liter monster of a motor.
We suggest fast forwarding through a bunch of boring stories about other kinds of cars (is there any other besides a Corvette?) and head directly to about the 16-minute mark to see how it all came to be. If you want to just hear the muffler-less C8 crank up and rev up, skip ahead even further to the 18-minute mark.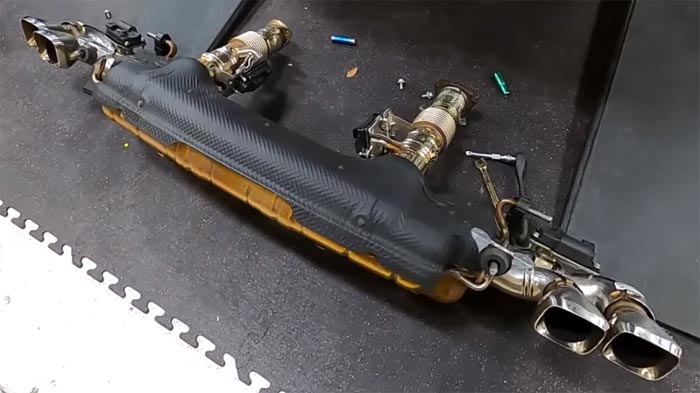 Like the Street Scape crew, I was expecting the car to be kind of obnoxious and annoying without the mufflers, but I have to say I'm in the 79 percent in favor of the louder sound.
They even point out that removing the muffler didn't cause a check engine light to come on, at least in the first few minutes, anyway, and theorize that it wouldn't be annoying to take the Stingray for a spin without its mufflers since any drone would be behind the driver. (They had the wheels off and weren't able to actually drive the car.) We'd have to agree with them, though in the everyday world, it might be nice to have the optional Performance Exhaust to allow you to get quiet on command.
So take a listen and let us know what you think. Muffled C8 or not muffled?

Source:
Street Speed 717 via RoadandTrack.com

Related:
[VIDEO] 2020 Corvette Break-in Red Line Change
[VIDEO] 2020 Corvette Stingray Receives First Oil Change
[VIDEO] First 2020 Corvette Stingray Delivered at the National Corvette Museum