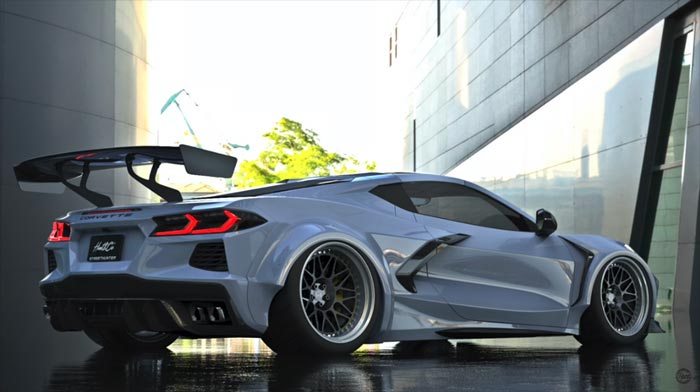 Photo Credits: TJ Hunt

You can expect the aftermarket to have a field day with the forthcoming C8.
In fact, TJ Hunt of StreetHunter USA just revealed renderings of their widebody kit for the 2020 Stingray, and we have to say it looks super aggressive and cool!
Even though the first paying customer doesn't even have a stock C8 in their garage, we're sure you're asking, how soon will this kit be available?
Unfortunately, Hunt says he doesn't really know for sure, but he is optimistic that it could be ready for purchase in three or four months. Once they get a C8 of their very own (he has a very low VIN and deliveries are expected to start this month), they'll immediately do 100% scans of the body to make sure their ideas are to actual scale, then they'll print 3D parts and make molds.

While he doesn't know the exact timeline, Hunt does believe that the finished product will be virtually identical to the renderings shown here, with possible minor changes to the front fender vent that mirrors the rear "boomerang" vent and perhaps a lower front spoiler.
Hunt says they have leaned toward a GT3 look for the kit, drawing inspiration from the C8.R of which they took lots of measurements and photos at the SEMA show.
The most noticeable parts of the kit include the huge over-fender flares at the front and rear, as well as the big rear wing held up by brackets inspired by the C8-R.

Hunt says the kit "was a little bit harder to come up with an idea of what we wanted because the car has so many hard edges and so many hard lines" compared to the smoother C4 through C6 generations.
He's excited to finally be able to share renderings and says he's particularly fond of the rear treatment in the kit, the part of the C8 that he believes has "the most presence."

As far as what this beauty will cost, no price has been released. However, we know a similar full kit for the Toyota Supra starts at $7,000.
Hunt's YouTube video released this week shows renderings of the C8 widebody done in white and black. We're partial to the black but wouldn't turn down either! How about you?

Source:
YouTube and autoevolution.com

Related:
[VIDEO] The Valarra is an Insane C6 Corvette Widebody Kit
ACS Composite Offers New Bolt-On Widebody Kits the C7 Corvette Stingray
[PICS] Sinister Widebody Rendering Pushes the C8 Corvette's Design Envelope