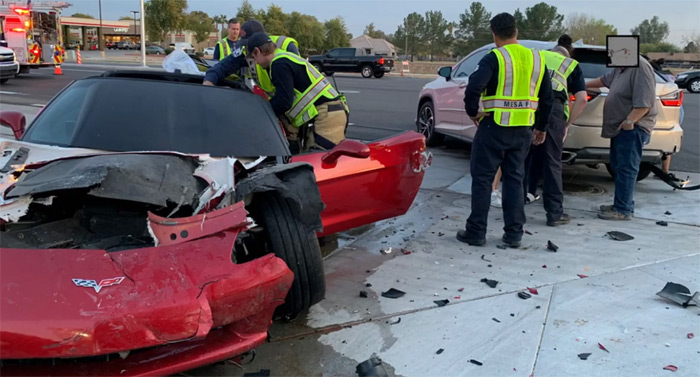 A Corvette owner headed home after a day's work was involved in a crash which totaled his red C6 Corvette and the whole thing was captured on video.
Mark Brumfield was on his way home from work on January 14th in Mesa, AZ., and the dashcam video opens as he pulls out onto a multi-lane road behind a white SUV. Ahead of him you see a Lexus crossover in a left turn lane. The Lexus driver waits for the white SUV in front of the Corvette to go by, and then turns right into the path of the red Corvette. You can hear Mark hit the horn but it's too late and he crashes into the side of the Lexus.
Photos of the aftermath show the Corvette is severely damaged and would be totaled in the accident. Mark was taken to the hospital following the crash and we assume he is okay as he posted this video.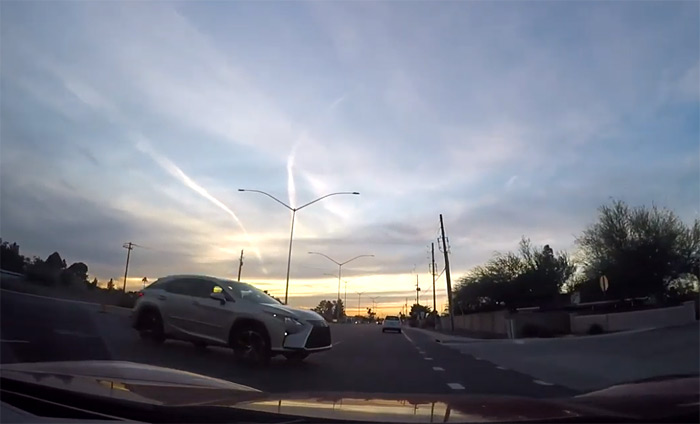 From Mark Brumfield via YouTube:
On my way home from work when someone made a left in front of me, I was pretty much up to speed and barely had time to touch the brakes. Big thanks to Mesa Fire, the EMT's and Mesa Police for their quick response. And big thanks to the people who called emergency services, and came over to check on me before rescue got there and stayed until I was loaded in the Ambulance.

Source:
YouTube

Related:
[ACCIDENT] Dash Cam Captures the Scary Moment a C3 Corvette Crashes into a Nissan
[ACCIDENT] Corvette Driver Going 100 MPH Attempts to Flee Police but Crashes Instead
[ACCIDENT] C4 Corvette Slides Under a Nissan Pathfinder