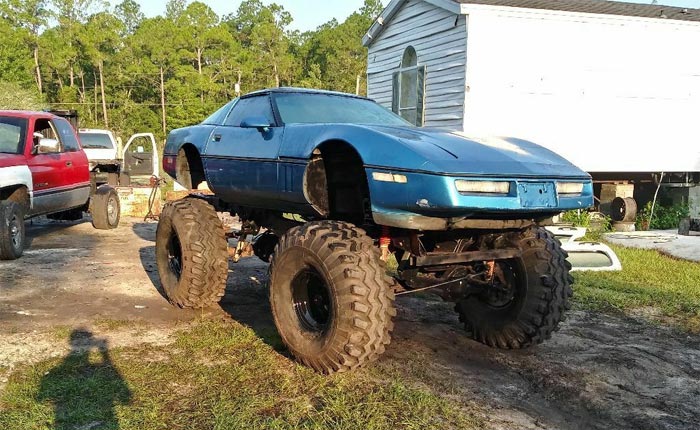 As winter approaches here at CorvetteBlogger's Detroit Bureau, thoughts turn to snow tires, Corvette storage, and subzero temperatures. But what would happen if I didn't have to store my Corvette for 6 months of the year?. Lucky for me I may have found the perfect solution on eBay in the form of this lifted 1990 Corvette 4×4.
There's something just so right and so wrong about lifted Corvettes. It a dichotomy I can't explain.

Now, details are slim in this listing. In fact, I'll just quote the whole thing here:
"There is a clean FL title for this corvette. It is located in lake city FL. Reserve is set at $1k. Up for auction is a custom built 1990 corvette monster truck project. Car is setting on a shortened frame and ford 4×4 front and rear axles with 44″ tires. Tires are shot good for mud a couple of them will leak down air after ab a week. There is no engine or trans in this right now . ready for what ever you want to weld up in there. Width of tires is approximately 7ft so will fit on most car trailers. Refer to pictures for condition. Car will need to be picked up within a week."

To that in-depth detail I can add that it's blue and appears to be fairly decent shape based on the photos. From what we can see of the frame it looks to be relatively free of rust and riding on leaf springs all the way around. The interior is void of seats and a radio which could easily be rectified. Since it's just a roller at this point, why not pick up a crate LS3 engine and 4L65-E transmission from GM Performance Parts?
We do see lifted Corvettes pop up from time to time, but this is the first 4×4 C4 (4x4x4?) that I can recall. Looking through the 4×4 archives it appears that C3's are the most popular canvas for 4×4 Corvette artwork.

If you're looking to stand apart from and rise above the crowd this may be the ride for you. The reserve price of just $1,000 is reasonable considering that you could nearly part it and make more money than that. It's clear that the seller is ready to move this thing so if this is the vette for you, get to bidding as the sale wraps up about 2:30pm eastern on Tuesday, September 24th.

Source:
eBay

Related:
Found On Facebook: Lifted 1984 Corvette
[VIDEO] Roadkill Inspired C4 Corvette Dune Buggy Plays in the Sand
[GALLERY] Corvettes Destined for Greater Heights (33 Corvette photos)