Now that the production numbers are in for 2019, we can take a look at the entire run of 7th Generation Corvettes. Bowling Green produced a total of 189,507 official production Corvettes between the 2014 and 2019 model years. The highest total came in 2016 when 40,689 'Vettes found new homes. 2018 was an extremely shortened model year that only saw 9,670 Corvettes built, the lowest number since 1959.
At just six years, the C7 was the shortest-lived generation since the C2 "Midyear" generation ran from 1963-67. In spite of this short life, the C7 was hugely successful. Overall production neared the previous generation's final count of 215,125 and the C6 was built for three model years longer.
With so much data to pour over, we are going to focus on exterior colors for this piece; keep your eyes on Corvetteblogger.com for further C7 production break-downs. Let's get into this!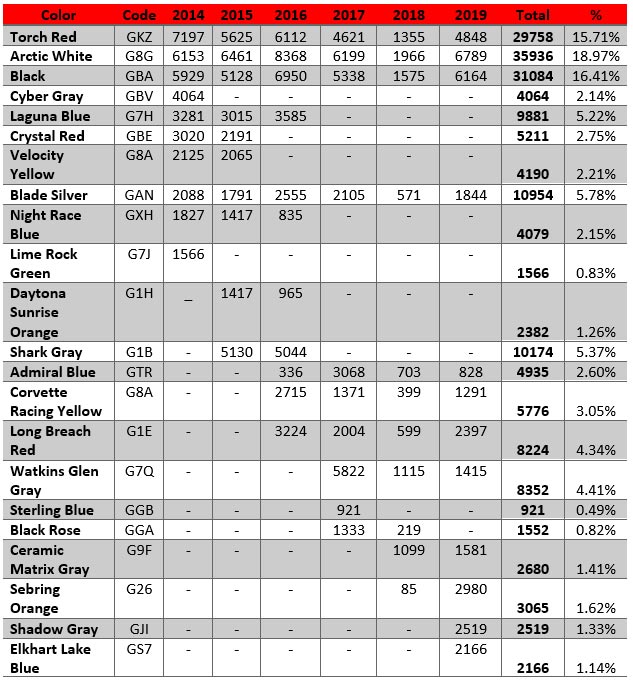 Arctic White was the most popular overall color at 35,936 produced followed by Black at 31,084 and Torch Red with 29,758. The other color that was available through the entire production run, Blade Silver, eked out a fourth-place finish (10,954 total). Even though it was only available in 2015 and 2016, Shark Gray found itself on 5.37% of all C7s (10,174). Next up with a final tally of 9,881 is Laguna Blue.
Every other color accounted for less than 5% of total production.
Carryover hues from the sixth generation included Cyber Gray which was selected on 4,064 Stingrays in 2014. Crystal Red and Velocity Yellow (also C6 colors) lasted two years into C7 production accounting for 5,211 and 4,190 units respectively. Night Race Blue was added to the C6 for the 2013 model year and was kept on the C7 until 2016. It found home on 4,079 C7s.

The C7 Generation of America's Sports Car included four one-year exclusive colors. Lime Rock Green was only available on 2014's, no matter how great it would have looked on the Z06 starting in 2015. Just 1,566 total 'Vettes left the factory wearing what would be the only green paint offered for the entire generation.
Sterling Blue had a limited run in 2017 and found 921 buyers making it the rarest shade of C7. The final year of production saw the other two one-year colors which were very similar in demand. Elkhart Lake Blue was ordered on 2,166 2019 'Vettes while Shadow Gray went home to 2,519 lucky buyers.

Sebring Orange was also nearly a '19 exclusive but an early start made it available in limited quantities for 2018. A total of 3,065 Sebring Orange Corvettes were built (2,980 in '19 and just 85 in '18). The other Orange, known as Daytona Sunrise or DSOM, is actually rarer than Sebring Orange. There are only 2,382 Daytona Sunrise Orange cars out there.
After Sterling Blue, with a run of just 1,552 C7 Corvettes, is the second hardest to find color: Black Rose Metallic. The reborn (and too dark to truly earn its name) Admiral Blue was offered from 2016 all the way through the last year of production; ending early in the run of 2019s to make room for Elkhart Lake Blue. The Admiral slots directly between Laguna and ELB in production numbers at 4,935.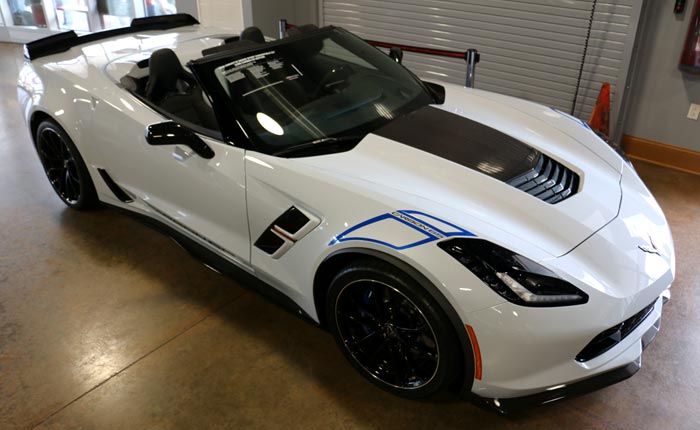 Rounding out production are Ceramic Matrix Gray (2,680), Corvette Racing Yellow (5,776), Long Beach Red (8,224), and Watkins Glen Gray (8,352).
Option D30, Color Combination Override can be used to spec interior/exterior combinations that aren't recommended by Chevrolet (ex. Velocity Yellow with an Adrenaline Red interior). These exterior colors aren't individually tracked but instead are just listed as D30 cars. This option was selected by customers as follows:
2014 – 261
2015 – 283
2016 – 281
2017 – 163
2018 – 25
2019 – 134
Some of these cars might look funny now but many are true 1 of 1 combinations that may command a large premium at auction in 30 years.
So, what do you think? How rare is your C7? Is there a color you wish you could have gotten your hands on? Let us know in the comments and check the links below for full model-year analyses.

Source:
Photos by Keith Cornett
Related:
Final Production Statistics for the 2019 Corvette Model Year
[POLL] What's Your Favorite Color from the C7 Corvette Generation?
2014 Corvette Stingray's Color Configurator Allows You to Play with Paint and Wheel Options