It was a typical day at work until I received my mail late this afternoon. A package with the return address of "Chevrolet, 100 Renaissance Center, Detroit, Michigan" that included the C8 logo next to the address was sitting atop the stack of mail. When I saw it, the rest of the mail didn't matter even though I had no idea what might be in the package. Of course, I quickly opened the package and was excited about what I saw inside…a limited-edition 2020 Corvette coin with the C8 logo on one side and Zora Arkus-Duntov on the other!
I took a few photos of the coin and the card titled "A Special Gift for You" that came with it. You can see that the card includes the collage from this morning's C8 color teaser video release on one side and a note on the other.
As I started to write a post about the coin on social media, I quoted the following from the card: "We're delighted to present you with this limited-edition keepsake coin. Each coin is emblazoned on the front with the likeness of Zora Arkus-Duntov, considered the 'father of the Corvette,' and the new crossed-flags logo on the back. Each is ringed by one of the 12 rich exterior paint colors available on the Next Generation Corvette. Your coin features Blade Silver Metallic."

The first thing that struck me was that the image on the front of the coin was the same one that I had seen earlier in the day in the teaser video. But then I chuckled when I realized that I had initially missed the statement that the coin was "ringed by one of the 12 rich exterior paint colors available on the Next Generation Corvette."
While we've suspected for quite some time that there would be 12 exterior color options for the 2020 Corvette based on previously leaked information, this is GM's first public announcement that there will indeed be 12 exterior color options. We expect to see the names of the 12 colors officially revealed at the Next Generation Corvette Reveal in Tustin, California, on July 18.
The note on the card indicates that there will be 12 different coins available, each with one of the 2020 Corvette colors in the outer ring and concludes, "We hope you enjoy your coin. Join the conversation and tag us on social at @Corvette with #Corvette. We can't wait for you to see the Next Generation Corvette for yourself. So, buckle your seat belt…and let's go!"

Thank you, Corvette, for the gift, and for the exciting news that the Corvette color pallet will soon expand from 10 colors to 12!
Update
We have more C8 coin sightings now to report! Thanks to Michael Frazier who posted this coin featuring an Arctic White surround while below we see a Sebring Orange coin posted by foreignbishop on the MidEngineCorvetteForum.com. Pretty cool!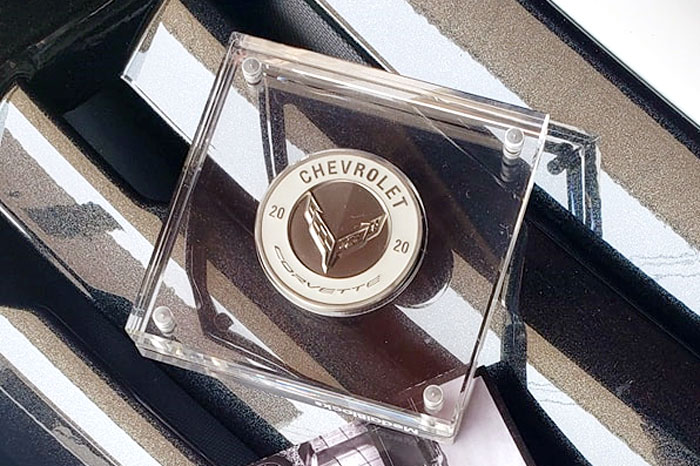 Source:
Chevy.com/nextgencorvette

Related:
[VIDEO] Chevrolet Shares a New C8 Corvette Teaser Called 'True Colors'
Chevrolet Shares Details of the C8 Corvette Reveal's Global Livestream
[VIDEO] Watch 12 Minutes of the C8 Corvettes Running Hard on the Nurburgring