Somehow we wouldn't be surprised to find Austin Powers asleep in the back of this 1967 Corvette.
This 427/390 hp coupe is a virtual time machine back to the groovy days of the '60s, having covered just 2,996 miles in the past 51 years – all by the hands and feet of only one owner.
Now it's being offered for sale at the upcoming Mecum Auction in Kissimmee, Fla., next month.
Mecum believes it will take "a special kind of owner" to make sure this time machine remains true to its historic condition. "It has one primary purpose," the auction says, "to permanently serve as an industrial document to remind us what America's Sports Car really smelled like, sounded like, and looked like brand new – inside, outside, under hood and chassis. Flaws included. That requires a special kind of owner."
While some people have spent hundreds of thousands of dollars restoring their car to better-than-factory condition, this 1967 Corvette has never been restored.
It's been so babied over the years that it remains the way it originally came from St. Louis.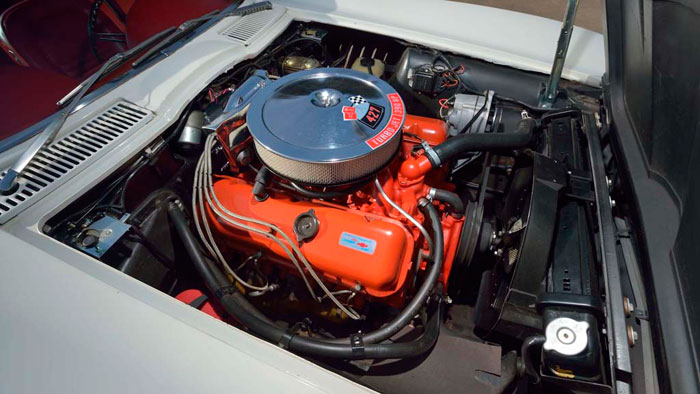 How babied? No one has been known to sit in the passenger seat, and no baggage has ever been carried in the rear compartment. It's so original that Mecum says it sets a standard of measurement for historical accuracy and provenance and will be used as the measurement standard for Insight, a new inspection service.
It goes without saying that the car has the original VIN stamps on the engine, transmission, body, and frame, but you'll get a notarized 45-page "Prove It" report by David Burroughs to make sure everyone knows this is the real deal. The six-volume "Prove It" History Box contains GM and ownership documents, correspondence regarding discovery and conservation, photos and records of 2017 conservation process returning the vehicle to operational service, video interview conducted by David Burroughs regarding the original owner; how and why the vehicle was driven so little and preserved so well.
As Mecum points out, there are literally thousands of perfectly restored vehicles available at any given time (but) there are only a handful of perfectly preserved ones available. Ever.

They describe it as "one of the world's finest preserved original and most documented sports cars," one that "belongs in the Smithsonian, not in a car show."
Lastly, Mecum says, "restorations cost hundreds of thousands, yet remain inaccurate. This car cost nothing to restore and defines accuracy."
Are you up to the task of assuming the tremendous challenge of owning this running piece of history?

Source:
Mecum via autoclassics.com

Related:
Private Collection Offering Nine Corvettes from 1962-1970 at Mecum Chicago
The Top 12 Corvette Sales of the January Auctions
[VIDEO] 'Vault Find' 1967 Marina Blue Corvette 427/435 Sells for $675,000 at Mecum Indy