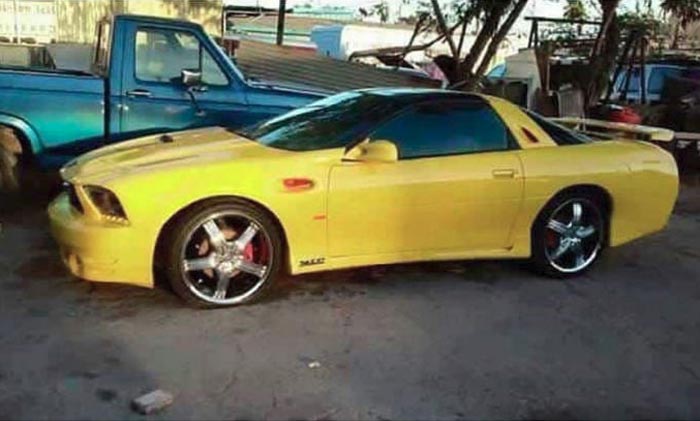 We know there are probably some folks out there who are big fans of both the Corvette and the Mustang. You CAN like two different manufacturers after all.
But this mashup is ridiculous.
Some things were never meant to happen – like this unseemly merger of a C5 Corvette and a Mustang into a hideous – take your pick – Corvang or Musvette.
This monstrosity came from a Reddit post about the world's worst car modifications.
The rear end and the front end views are OK, but it's where the front fender meets the windshield that we run into problems as the lines just don't match up. It doesn't help any that the proportions seem to be off, too.

But the biggest question of all is why someone would ever want to do this amalgamation in the first place. (On the bright side, it did give this veteran writer a chance to perhaps use the word "amalgamation" in a story for the first time in his 40-year career!)
The transformation might be a little more palatable if it were a Corvette and a Mustang both from 1955, but even then, we have to believe if God wanted a Corvette and a Mustang to have babies, he'd have merged Chevy and Ford a long time ago. And we all know that ain't gonna happen!
What's next? A Trans Am married to a Miata? A Ferrari hitched to a Fiero?
What's your opinion on this unseemly union of semi-competitors?

Source:
Reddit via carscoops.com

Related:
Friday's Featured Corvette For Sale: Scary Halloween Edition
The National Corvette Museum Wants to See your Corvette Themed Pumpkins
Barrett-Jackson to Offer the 1954 'Entombed' Corvette at its January Auction