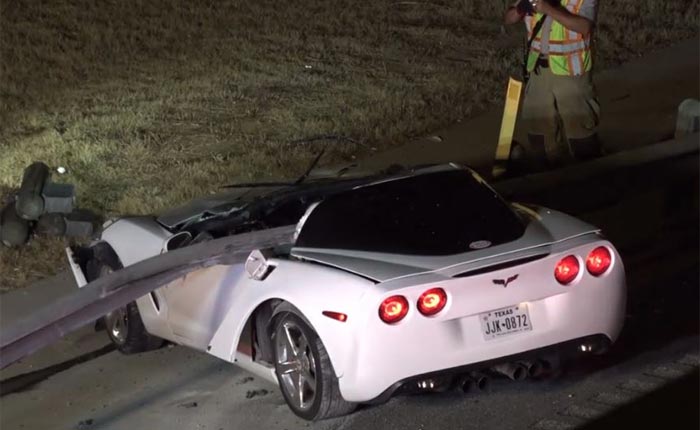 Sparks fly through the air in this video that shows emergency workers slicing through a guardrail that pierced the cockpit of a white C6 Corvette coupe in Haltom City, near Dallas-Fort Worth, Texas early Thursday.
Check out the images from DallasNews.com and you'll be amazed to find out that the driver wasn't killed or decapitated. Instead, he was found by police after walking nearly two miles to Haltom Road, apparently seeking help!
He was transported to a local hospital and is listed in serious but stable condition, according to police.
The accident happened around 1:45 a.m. on eastbound I-820 near U.S. Highway 377.
Police theorize the Corvette was speeding when it slid under a guardrail, with part of it smashing through the windshield and ending up in the cockpit.

Source:
Dallas News

Related:
[VIDEO] Corvette Driver Facing Charges After Fleeing Police and Crashing into Two Other Vehicles
[ACCIDENT] 2019 Corvette Grand Sport Wrecked with Just 15 Miles on Odometer
[ACCIDENT] Authorities Blame C5 Corvette Crash in Tulsa on Over-Acceleration