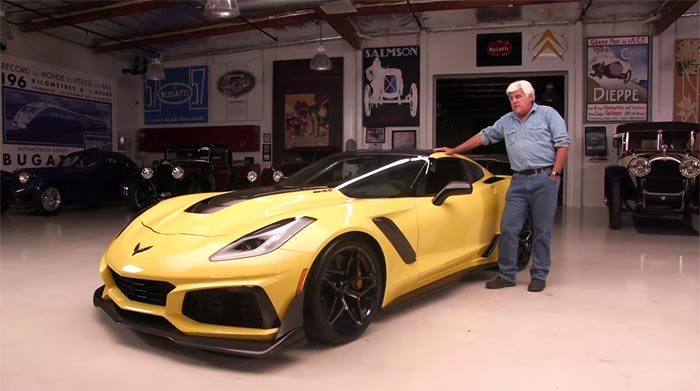 Count Jay Leno as a major fanboy of the new Corvette ZR1.
We showed you a few days ago when the comedian/car enthusiast took chief engineer Tadge Juechter on a top speed run around the Milford Proving Grounds at a whopping 204 mph.
Now comes an episode of "Jay Leno's Garage" where he hears the facts from a couple of experts on the Corvette, and the ZR1 in particular, then takes a ride in Chevy's new supercar to learn how civilized it is at more normal speeds on California streets.
First Leno gets the lowdown from Todd Crutcher, director of marketing for Spring Mountain Motor Resort and Country Club, where every owner of a 2019 ZR1 gets to enjoy two days of training in the classroom and on the track to learn how to get the most of their car.
Then comes Shad Balch, Corvette product specialist, who fills Leno in on all the bells and whistles that make the ZR1 so spectacular.
Not that Leno really needed any convincing from anyone. In this video, we quickly lost track of the times he referred to the Corvette and the ZR1 in glowing terms.

"It's the performance bargain of all time," Leno says at one point. "I mean, you get Ferrari, McLaren, Lamborghini levels of power and performance for a fraction of the price. It's pretty amazing."
Later, the comedian says he was "stunned" at how aerodynamically sound the ZR1 is, recalling the time more than 10 years ago when he took a Porsche Carrera to Talladega and did laps at 190 and things "got a little tense," as he put it.
"Whereas we took (the ZR1) well over 200 mph for a long distance, and it was rock steady," Leno brags. "Just how far aerodynamics have come in a little over a decade is pretty amazing."
As Shad points out, "it's one thing to get a car to go that speed, it's a whole other composition to get it to stick to the ground."
Though I would have been terrified to be in a car doing 204 mph with Leno behind the wheel, Tadge didn't seem to give it a thought, raising his hands in the air and going "wooo" when the speedometer hit the magical 200 mph mark.

Ready for some more superlatives from Leno? "It's amazing how good it's gotten," he says. "I'm just stunned by" the Corvette.
We love it when he and Shad walk around the ZR1 and Jay points out the front splitter, joking that on an exotic like a McLaren, if something happened to that same splitter, he could either buy a replacement part or go get a Z06 for the same price!
"I know (the ZR1) is a lot of money," he confesses, "but if you were to piece this car out, it would cost you hundreds and hundreds of thousands. I can remember when these brakes were $20,000 a set if you got them optional on some European exotic. That's what is so amazing to me about (a Corvette) – that they're able to do it that efficiently at this price point."
Another superlative arrives a few minutes later when Leno says: "I keep stressing this performance bargain thing, but I look at cars that have all these features and they're a minimum 375, 390, 400, some close to a million dollars, and they have the same horsepower and maybe a little fancier interior."

Later, we're also proud to hear him brag about the American car industry these days, noting that it's good to see engineers like Mark Reuss and Mary Barra running the show instead of bean-counters and marketers from outside companies.
"To see Detroit competing with the rest of the world is just fantastic," Leno says.
"It's a fun time to be in the car biz," Shad admits.
"It is," says Leno, noting you can't fool customers with decorative badges anymore. The car's got to perform.
And "if you want the ultimate Corvette," Leno says, "this is it."
That is, until Tadge and crew come up with their next big thing!

Source:
motorauthority.com

Related:
[DVR ALERT] Tadge Juechter and the 2019 Corvette ZR1 Will Be Featured on Jay Leno's Garage
[VIDEO] Jay Leno Takes Tadge Juechter for a 200 MPH Ride in the 2019 Corvette ZR1
[VIDEO] The Callaway Corvette AeroWagen on Jay Leno's Garage