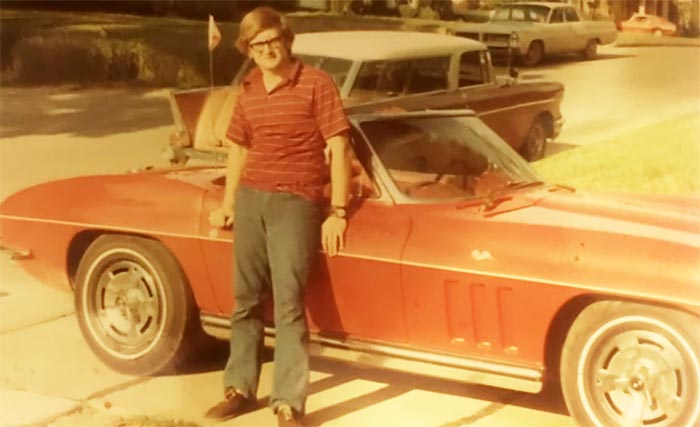 If you're reading this website, you get it.
Corvettes may just be a collection of steel and rubber and leather and fiberglass to some folks, but they're much more than that to the enthusiasts who love them.
Take Rusty Brock, for example.
When he was just 10 years old, back in 1983, Rusty came across a color slide of his father, George, with a 1965 Corvette. "Oh, I used to own that car back in the day," father told son.
That began a long campaign to buy back that special Corvette, which George had purchased new but had sold in 1971.

The campaign began in 1983 when George gave the VIN to a policeman friend of his, who was happy to report that the Corvette was still registered – just 20 miles away in Claremore, Oklahoma.
George and Rusty arranged to meet the current owner named Kenny (not the man that George had sold to in 1971), and while he turned them down on their generous offer of $14,500 (for the day) for an unrestored 327/300 4-speed convertible, Rusty did at least get a consolation prize of sitting in the driver's seat that day.
That just whetted their appetite for the car as they never got it out of their system. In fact, "my dad almost had the car bought one day back in '87 or '88," Rusty recalls. "He was counting out the money and his wife came out and said we're not selling the car, so that was the end of that."
But still not the end of the pursuit. Finally, in 2016, Kenny told them that while he still didn't want to sell his Corvette, he would be willing to trade even – if they could find another red/red '65 convertible just like his.
"So the hunt was on," Rusty says.

He looked and looked and looked, and finally one day, a red/red '65 convertible popped up on eBay – "an identical twin except it had a black top," Rusty says.
He told the seller about his dad's '65 and "I guess it really touched him," Rusty says. They agreed to end the auction at the Buy It Now price of $35,900, and Rusty then talked to Kenny, who agreed to make the swap and end a 33-year pursuit of the car.
One of the photos Rusty found was of his dad sitting in his beloved '65 back in the day. Fast forward to 2016, and we get to see a photo of George in the same location and the same car 51 years later!

Source:
Jerry Heasley / YouTube

Related:
[VIDEO] Ridiculous 1957 Corvette Barn Find
[VIDEO] Restoration Update on the Barn Find 1966 Corvette Pulled From Iowa Farm
[VIDEO] 1962 Corvette Fuelie Barn Find Has Been Sleeping for 50 Years