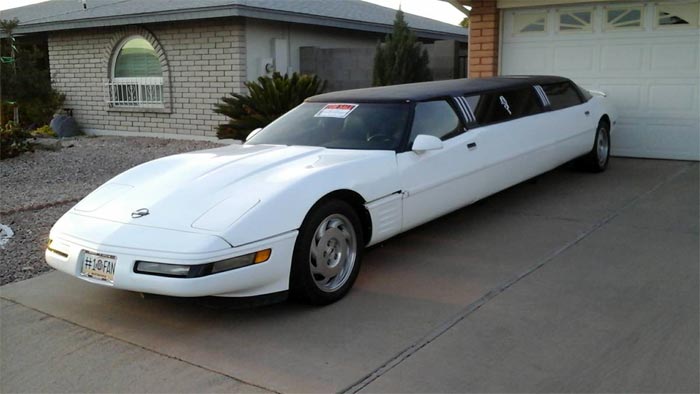 We've documented some of the oddball Corvettes available for sale on Craigslist over the years and hopefully, our latest entry will not disappoint.
Sometimes life requires more than the two seats that are offered on traditional Corvettes. So how about a Corvette that can haul six people and will still attract plenty of attention when you roll up to your destination? If that sounds good to you, check out this 1994 Corvette limo for sale on craiglist in Mesa, Arizona for the tidy sum of $14,000.

The white 1994 Corvette Limousine was stretched to accommodate the four extra Corvette seats in the back. Each of the four seats is separated by the C4's huge center driveline tunnel which is taller than the seat's side bolsters. We'll be kind and say that that interior pictures don't do this seller any justice for the Corvette he is trying to sell. However, on the plus side, the passengers appear to have a small TV, a phone for calling the driver and more cupholders than any minivan currently on the market.
1994 Corvettes were outfitted with an LT1 V8 capable of 300 horsepower and this one features an automatic transmission. There does appear to be some damage on the driver's side where the clamshell hood comes down but otherwise the car presents itself well.

The seller claims ownership of the car for the past 14 years and with 77,000 miles on the odometer, we're betting this Corvette limo has seen its fair share of proms, weddings, and girl's night out on the town!
We've seen some better-executed designs of Corvette limos in the past with the Black/Silver 1979 Corvette limo from movie Mystery Men being our favorite. Still, if you feel the need for taking four or five friends for a long drive, this stretch '94 Corvette might just be the vehicle for you.

Source:
Craigslist via Barnfinds.com

Related:
[VIDEO] Three Axle C3 Corvette Limo For Sale in Spain
DVR Alert: C4 Corvette Limo on Top Gear USA
eBay Find of the Day: Mystery Men 1979 Corvette Limo