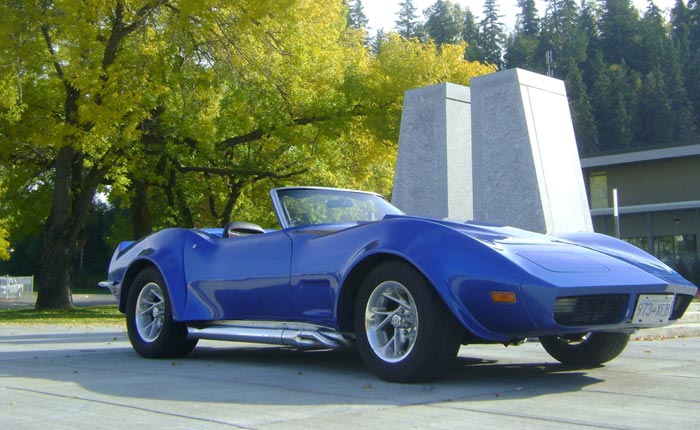 It's been too long since our last edition of RIDES has been posted.
But I recently got a great email from Savannah B. who hails from Prince George, B.C. in Cananda who provided us with a wonderful story about her 1973 Corvette. Like a lot of young Corvette owners, her late father also loved Corvettes and that passion was passed down to Savannah. Here is Savannah's RIDES story told directly from her:
This is my 1973 Corvette. At a young age, I had fallen in love with stories and photos of my parents 1971 Corvette.
Fast forward a few years, at the age of 20 years old my Dad found my "Dream Car" – this girl – in the back of an old used car lot. The most gorgeous blue paint job, and shiny chrome side pipes. It was absolutely love at first sight for me! And she became mine that same day. In my head I knew that one day it would be the car I would drive away in, on my wedding day, just like my parents had done!
My Dad had warned me it would be a project, but as much as there was lots of work to do, I shared a very close bond with my Dad and enjoyed every minute of wrenching on it with him.
Savannah with her Dad (John) in 2010, Terrace British Columbia

Just 3 years after we had started our special project together, my Dad very suddenly passed away. It was the hardest thing I had ever gone through in my life. Yet, when I fired up my car and went for a cruise, it like he was right there beside me.
Fast forward a few more years, and I met the love of my life. And he too, fell in love with my car!
And in the summer of 2016, I married this wonderful man. Though I'd have given anything to have had my Dad there to walk me down the aisle, my hubby lit up the tires and peeled out of our wedding ceremony, just as my Dad would have done, in the get-away car of my dreams. In that moment I felt my Dad right there with me, and a real life dream of mine come true!
Savannah's 1973 Corvette was also featured in her wedding to Lucas in 2016.

Though she may not be stock from front to back, or in perfect condition, this girl holds a very special place in my heart. And I can hardly wait to hear her engine rumble to life again this summer!
Love, a Northern Canadian Corvette Chick!

Thanks for the great story Savannah! Want to see your Corvette featured on My Corvette Ride? Pick your Corvette's best photo, or a photo with a really good back story and send it to [email protected]. You must include your name and city/state and give me a great caption or details that tells us something about your car or the setting of the photo.

Related:
[RIDES] Tom's 2015 Corvette Atlantic Convertible
[RIDES] David's 1981 Corvette
[RIDES] Mac's Custom 1980 Corvette