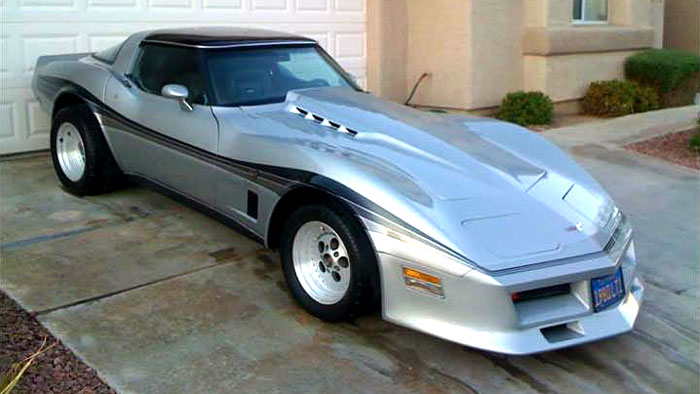 Here is another submission from a reader for our RIDES posts. This C3 Corvette hails from Las Vegas and like many beautiful ladies in Sin City, she's had some custom work done!
Mac's Corvette started life as a standard 1980 Corvette and he mentions a 35 year storage, but not sure if that was before the customization or after. Since its birthday at the Corvette assembly plant in St. Louis, the car has received a complete overhaul and now features a 1970 LT1 Corvette V8 engine mated to a Doug Nash 4+1 five speed transmission. For that sleek custom look, a Greenwood GTO hood and front bumper was added to the mix. Some of the suspension upgrades include GM Daytona springs and Bilstein sport shocks and the Corvette rides on Centerline Champ 500 Wheels. Interior upgrades include Recaro Sportster CS Sport Seats and an Alpine Stereo.
Thanks for sharing Mac, your Corvette is real headturner!
Want to see your Corvette featured on My Corvette Ride? Pick your Corvette's best photo, or a photo with a really good back story and send it to [email protected]. You must include your name and city/state and give me a caption or details that tells us something about your car or the setting of the photo.

Related:
[RIDES] Michael's 1964 Corvette Sting Ray
[RIDES] Jarrod's 1981 Corvette
[RIDES] Richard's RHD 2008 Corvette Z06