As I continue to search for my next Corvette, I often wonder what it would be like to find a super low mile Corvette gem tucked away in a long forgotten garage or barn. David Hallman from Ottawa, Ontario recently got to fulfill my Corvette dream when he stumbled up on an Elkhart Green 1972 Corvette Coupe that had been sitting since 1973.
Hallman repairs and sells old Corvettes. Several years ago he purchased a 1968 Corvette and was struggling to get it functioning properly. Through a recommendation he tried Actek Auto owned by Ernie Finateri. Hallman and Finateri used to race against each other the 1960's and 1970's. As they became better friends Finateri mentioned that he had car collection of his own.
One of the cars in the collection just happened to be a 1972 Corvette coupe which he purchased as a bank repo in 1973. The car had been in storage ever since.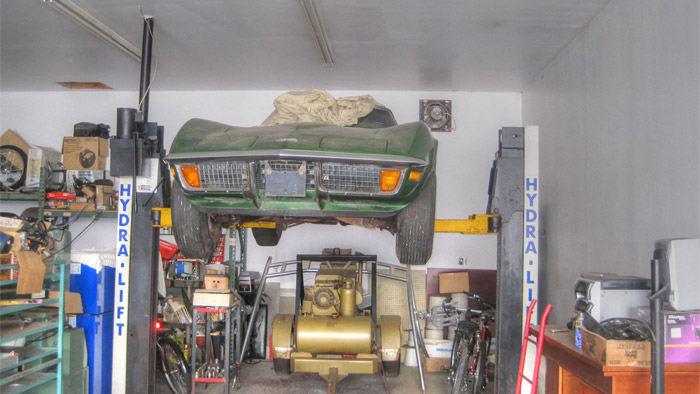 When Hallman first saw the car it was raised up on a hoist. He could clearly make out a healthy layer of dust underneath the tarp that covered the car. Removing the tarp yielded a time capsule of a Corvette. Hallman immediately stated that he'd like to purchase the car, but his friend wasn't quite ready to part with it just yet. Over the course of the following several years Hallman would visit Finateri's shop and reiterate his intent to acquire the low-mile C3. While he wasn't immediately able to procure the Stingray he did buy several other cars in that time-frame.
Flash forward to the fall of 2016. After 30 years in business Finateri elected to close his shop. He had a tendency to sell things in bundles and offered up the 1972 Corvette as long as Hallman bought a 1995 Corvette as well. They agreed on a price and sealed the deal without even a deposit. A later, higher offer for the C3 we declined because Finateri already had that handshake deal with Hallman. We don't know how much they agreed to, but Hallman did refer to it as a "competitive price."
The car currently shows 3,749 miles on the odometer. It's equipped with the base L48 engine mated to an automatic transmission. The car is fully optioned with power steering, power brakes, and tilt and telescopic steering wheel. The exterior is finished in Elkhart Green over a black vinyl interior.
It's completely factory original right down to the stickers on the engine and shocks. It wears snow tires on the rear while the fronts are the bias-ply's initially installed in St. Louis. The original spare has never been out of the carrier and even the clock still works.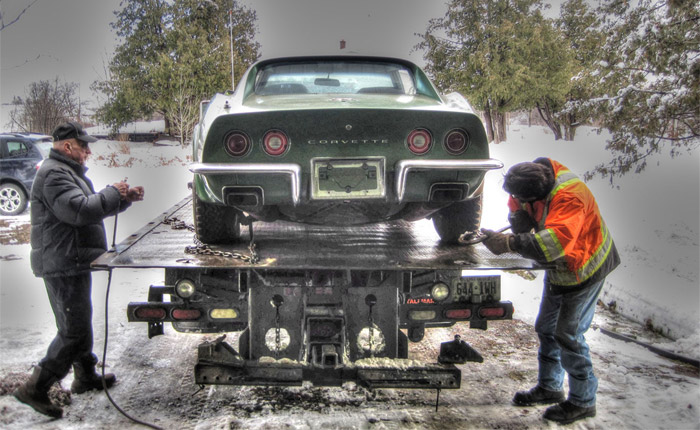 Since coming home in January of 2017 the paint has been polished and the interior has been steam cleaned. The gas tank was drained and new fuel filers and a fresh battery were installed. Once it was ready, the old Corvette's motor spun immediately back to life.
Now that his car is up and running again, Hallman plans to keep it factory original and campaign it on the show circuit later this year. So keep an eye out for this low-mile gem at Bloomington Gold and NCRS events in 2017 and beyond.

Source:
SuperChevy.com

Related:
1967 Big Block Corvette Rescued from 35 Year Slumber
[PICS] Retired GM Engineer Rescues a Barn Find 1955 Corvette Stored for 48 Years
Milwaukee Garage Hides Two 1957 Corvettes and a 1963 Sting Ray Convertible