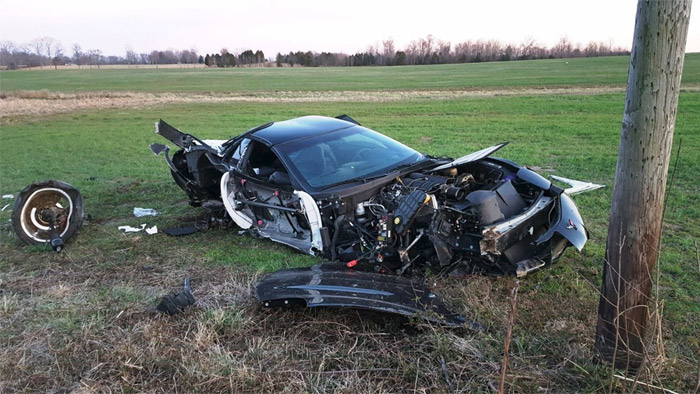 Photo Credit: Pulaski County Sheriff's Dept.

The Pulaski County Sheriffs Office responded to a call on Sunday afternoon reporting a single car accident on Highway 70, two miles west of Eubank, Kentucky. When officers arrived, they found a 2002 Black Corvette crashed in a field. The two occupants were thrown from the car and the female passenger would later die from her injuries.
Authorities believe the driver lost control of the vehicle and it left the roadway, striking a concrete culvert and an earthen embankment before becoming airborne. The Corvette then flipped several times and ejected the occupants before coming to rest in a field alongside Highway 70.
The victims were treated by Somerset-Pulaski County EMS at the scene of the crash. The driver, 37-year-old Timothy Barron from Eubank, Kentucky, was airlifted by a medical helicopter to the University of Kentucky Medical Center. The passenger, Rhonda Sandidge, age 50, of Eubank, KY., was taken to Lake Cumberland Regional Hospital where she was pronounced deceased.
Authorities say the crash is still under investigation.
Photo Credit: Pulaski County Sheriff's Dept.

Source:
LAKE 102.3 / Facebook

Related:
[ACCIDENT] Police Seek Driver of a Corvette in Three Car Crash
[ACCIDENT] C4 Corvette Involved in Head-On Collision with Pickup Truck
[ACCIDENT] C7 Corvette Takes Out a Light Pole in Vegas Crash