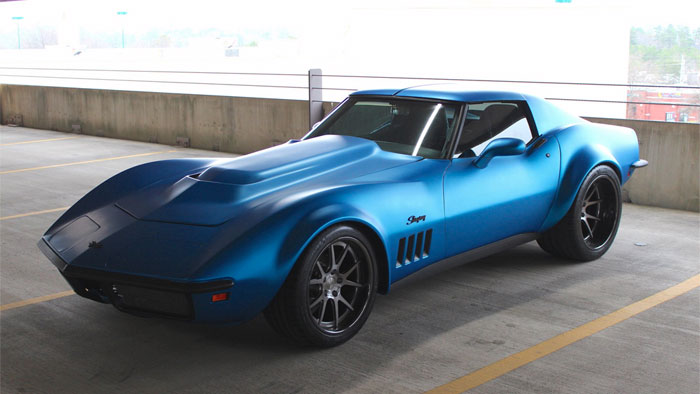 Once upon a time we came across a Matte Blue Metallic Corvette Z06 down in South Florida and we were blown away by the look. The photo we shared was a very popular post and we've seen it shared many times since.
So when this 1969 Corvette Stingray photos were shared today on social media by Forgeline, it was like seeing a familiar car, yet something totally different.
Looks to me like a good time to do a Wheels Wednesday post!

There is a really cool backstory to the car so make sure you head over to the Forgeline Wheels customer gallery to read all the details.
But the short story is the car belongs to a guy named Chris, whose dad owned the car before he was born. Chris grew up with the car and eventually talked his dad into selling it to him for $1! That's some pretty good negotiating skills you got there, Chris!
Chris went to work on the car and also handed off more the projects to Josh at Custom Image Corvettes. Now after a variety of work performed, the Stingray is pushing nearly 400 hp.

After watching RideTech's 48 Hour Corvette Build, he got the idea to wrap the car and turned to a local shop to wrap it in Matte Blue Metallic. Chris went to work himself with covering all the chrome and trim with black plasti-dip and was very happy with the look. But something was still off, so it was then he decided the wheels were the next major point of attack.
Chris went with the Forgeline GA3C Wheels with transparent smoke centers and black pearl lips. The Corvette Stingray is riding on 18x10s in the front and 19×12.5s in the rear and they are fitted with 285s in the front and 345s out the rear with zero rubbing.
All we know is that the look is spectacular! Nice to see what a $1 investment will lead to…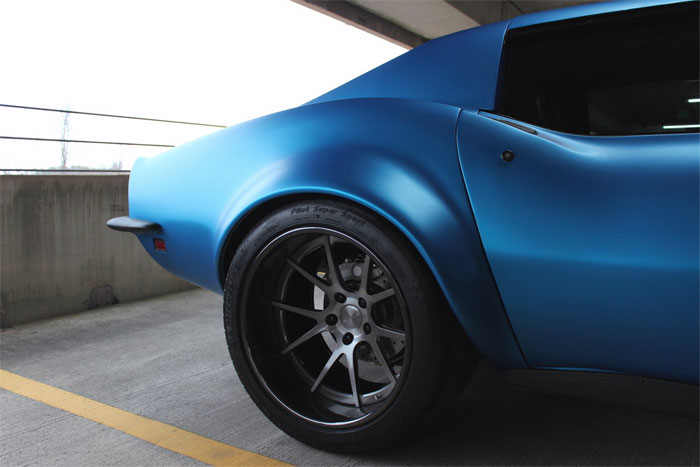 Source:
Forgeline

Related:
[PICS] Laguna Blue Corvette Stingray on Blue Forgiato Wheels
[PICS] Custom Z06 Corvette is Stunning in Matte Blue
[PICS] Corvette Stingray Gets a Matte Purple Metallic Wrap