1955 was a pivotal year for the Corvette's future. It was the first year that a V8 engine would be introduced, but at the same time, sales plummeted and only 700 roadsters were built. The model would end up having the the second lowest production totals behind the 300 Corvettes built in 1953.
Luckily for the Corvette, it was also the time that Zora Arkus-Duntov began asserting his (radical) ideas that the Corvette needed to drive and handle like a proper sports car should.
It also helped that cross-town rival Ford had just introduced their two-seater known as the Thunderbird. And unlike the Corvette, sales of the Thunderbird took off and so Chevrolet's execs decided to keep the Corvette going instead of canceling the car and admitting defeat.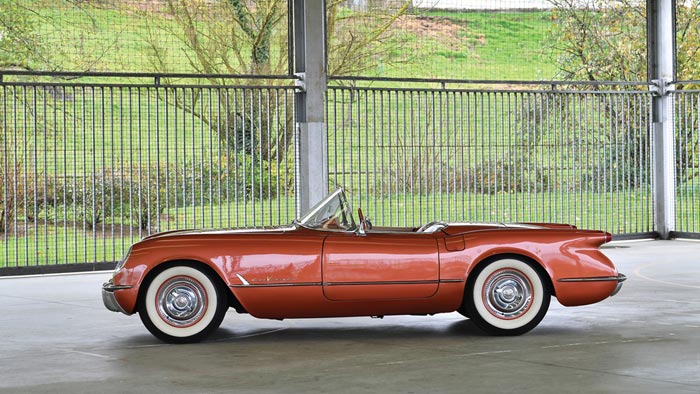 Obviously, the big news in 1955 was availability of the 265-ci V8 engine and all but seven of the 700 produced would feature the new engine.

Chevrolet offered five colors for the 1955 Corvette and while most left St. Louis in Polo White (325) or Gyspy Red (180), the car was also available in Harvest Gold (120) and Pennant Blue (45). The fifth and rarest color of the 1955 model year was called Corvette Copper and it only appeared on 15 cars. Of those 15 original cars, only four are known to exist today.
This 1955 Copper Corvette somehow made it over to Europe during its lifetime and now resides in Spain. It was the 22nd car built in 1955 and comes with the 265-ci V8 and the two-speed automatic transmission. The interior is a beautiful creme with a matching canvas soft top.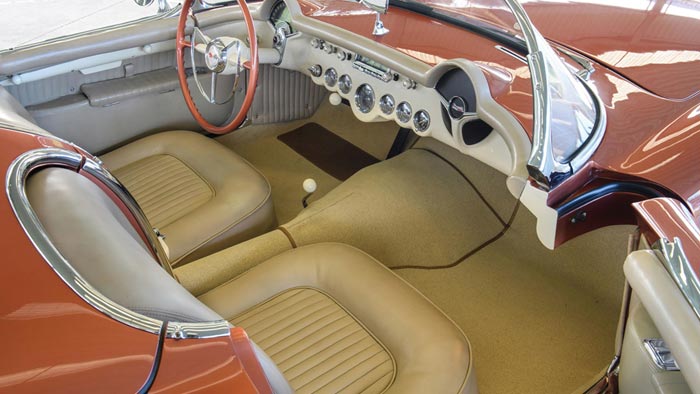 The car was restored to its original specifications and the restorers did the extra work to preserve the original copper paint on the rear wall of the trunk for provenance. The new owner will receive a restoration booklet detailing the restoration process from start to finish.
This rare 1955 Corvette will be offered on February 8th by RM Sotheby's at their Rétromobile sale in Paris.

Source:
rmsothebys.com

Related:
1960 Corvette Roadster to be Offered at RM Sotheby's Monaco Auction
Barn Finds: The Story of 1955 Corvette VIN# 001
Video: Zora's 1955 Corvette Sold By RM Auctions for $134,750