If Steve McCain was a fisherman, he'd have quite a few tales to tell about the big ones that got away – as well as the big ones he did manage to reel in. Fortunately for Corvette enthusiasts, McCain's tales aren't fishing-related – instead they have to do with some of the very first Corvettes ever made.
You see, McCain fell in love with Corvettes as a youngster and bought his first one – a 1965 model – while he was still going to high school in the 1970s.
One of the rewards back then was that all Corvette owners received a subscription to Corvette News, where McCain just happened to see a feature seeking the oldest 1953 in existence.
"I thought the car looked really neat and decided I wanted one," he said.
That was the beginning of his life-long love affair with first-generation Corvettes.
In fact, he's owned plenty of them ever since, including a 1953, four 1954s, and a very special 1955.
He found the '55 in Lexington, N.C., more than 30 years ago, buying a very rough example from the owner of The Corvette Center for just $500.
After he and a friend, Larry Melvin, found the serial number, they discovered they were looking at the very first 1955 model ever made!
"I had always heard that Smokey Yunick got the first five Corvettes off the assembly line, but I guess not," McCain said.
It took him four years to restore the '55 and he eventually sold it in 1976 to a collector who also had the first '56 and '57 models. What a trio that made!
McCain had another chance to buy another unusual 1955 model a couple of years after he found serial No. 1. It turned out to have been built by Zora Arkus-Duntov, who had exercised it at the GM test track in Arizona.
Unfortunately, by the time he saw it, the Corvette was "in pretty sad shape," McCain recalls. "It had a big headrest that was molded into the rear trunk, holes in the frame, and holes where a small windscreen had been mounted. But it was a thousand dollars, and I just thought it was a botched up car, and I didn't want another '55, so I didn't buy it."
McCain bought a 1954 in the late 1980s and used it as a parts car for a custom '53. Then he turned around and used the leftovers from the '54 to make another hot rod with a late model LT-1 engine and a 700H automatic transmission.
The Bowling Green factory is proud of its environmentally friendly operation these days. But McCain is proof that Corvettes have always been good for the environment. You might say Corvettes never die; they're just recycled.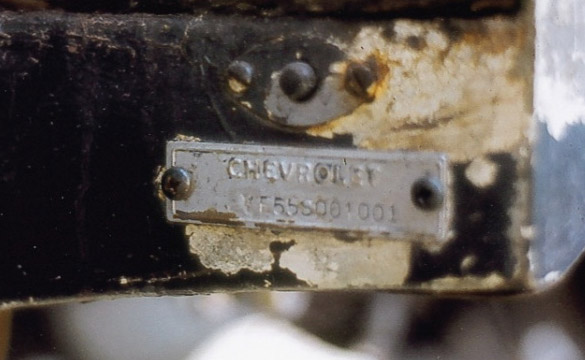 The original story of the find and rescue of the #001 1955 Corvette comes from Tom Cotter's bookThe Hemi in the Barn.

Source:
Barnfinds.com

Related:
Mecum Offering Collection of Three Serial #1 C1 Corvettes at Bloomington Gold High Auction
1953 Corvette VIN #005 Sells for $445,500 at RM's Scottsdale Auction
[VIDEO] 1965 Corvette VIN 00001 Sells at Mecum's Indy Auction