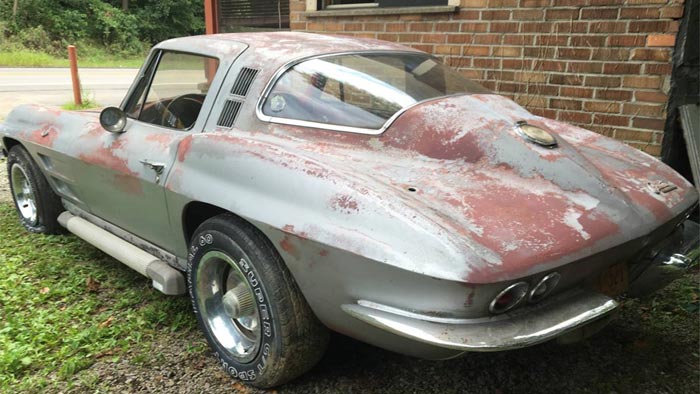 It's funny how a good Corvette Barn Find can brighten my day. There are some great Corvettes out there that are worth saving and we believe this 1964 Corvette Sting Ray Sport Coupe in East Pittsburgh, PA is one of them.
Like all barn finds, you're never sure of the work involved to bring back a classic, but this 1964 is complete with the base 327/250 V8 and a four-speed manual transmission. The ad doesn't say if the coupe is a numbers-matching car, but it does say "bad frame" so assume you'll need a replacement.
The body of the 1964 Corvette doesn't look all that bad. The car still retains both sets of bumpers and comes with an aftermarket side exhaust. The early C3 rally wheels don't look too bad on the car either.
Inside the car you'll find a red interior.The interior is complete and according to the ad, the odometer reads a reasonable 54K miles as the seller states the car hasn't run in 25 years. The seats are a bit torn and we see quite a bit of rust on the drivers side floor which makes us worried about the birdcage. But you need a new frame anyways so plan on replacing the windshield frame as well.

The 1964 Corvette is listed for $26,000 and the ad was put up just a few days ago. If you're interested, head over to Craigslist and check it out.

Source:
wheeling.craigslist.org

Related:
Corvettes on eBay: Barn Find 1962 Corvette Big Brake Fuelie
ProTeam Corvette Looking for History on a 1963 Corvette Big Tank Z06 Barn Find
Corvettes on eBay: 1958 Corvette Barn Find May Have Originally Been a Fuelie