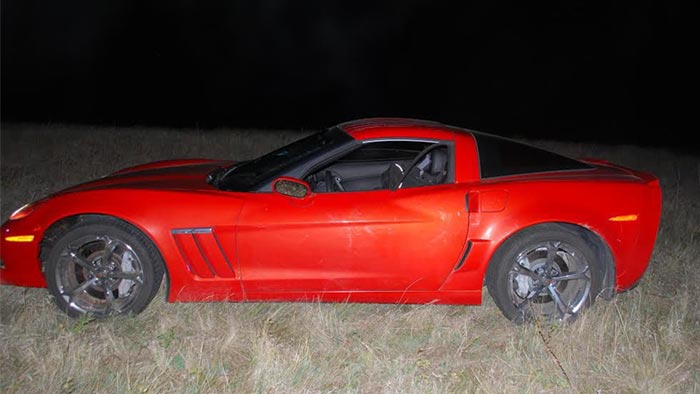 Photo Credit: Wyoming Highway Patrol

Two Billings, Montana men in a stolen 2013 Corvette Grand Sport are facing multiple charges after leading lawmen on a crazy high-speed chase Monday.
The Torch Red C6 Corvette coupe had been reported stolen in Billings on Sept. 20. A Wyoming High Patrol trooper spotted the car driving erratically on I-25 about 1 a.m. Monday and tried to catch up when the driver – 25-year-old Justin Fuller – took off in the wrong direction in the southbound lanes of the interstate.
He and passenger Taylor Graves, 18, finally exited I-25 and ended up on Wyoming Highway 211, where the chase continued going west passing through several county roads, pastures, and the yard of a home. The Corvette reached speeds up to 145 mph during the pursuit.
The two men tried to escape after eventually stopping the Corvette in a pasture, but they were nabbed by state troopers and Laramie County Sheriff's deputies.
They're in custody at the Laramie County Detention Center in Cheyenne, where Fuller has been charged with possession of stolen property, impaired driving, possession of methamphetamine, possession of marijuana, interference, fleeing and eluding and reckless driving and Graves with possession of stolen property and interference.

Source:
BillingsGazette.com

Related:
[STOLEN] Two People Arrested After 1963 Corvette Sting Ray is Recovered in Montana
[STOLEN] 1996 Collector's Edition Corvette Used As Battering Ram in Gun Store Robbery
[VIDEO] C5 Corvette Z06 Carjacked and Shot at by Police as Thieves Try to Escape