When Chevrolet first unveiled the new 2017 Corvette Grand Sport in Geneva, it was the 2017 Grand Sport Collector Edition in the new Watkins Glen Gray with Tension Blue Hash Marks and Interior. The new model caused quite a splash overseas and at home especially when it was learned that only 1,000 Collector Editions would be offered.
Chevrolet has held back production of the Collector Edition until after the regular Grand Sport launch, but the good news is that they are now sending order information and allocation numbers to dealers this week.
From the new information, we have learned that 850 of the 1,000 Collector Editions will be offered to US customers while the rest will be exported to foreign markets.

Dealer allocations will be tight with even the largest Corvette sellers having just a handful. Production of the Collector Edition Grand Sports will also be spread out over a five month period beginning in October and ending in February. The first order period will be in September so if there is interest, hopefully you've already spoken to your dealer.
The 2017 Corvette Collector Edition in available as a Coupe or Convertible and will be offered only in 3LT trim. The Collector Edition features Watkins Glen Gray Metallic with Carbon Flash badge package and Satin Black full-length body stripes. Black Grand Sport Cup Wheels and the Tension Blue fender hash marks complete the look.
On the inside, the Tension Blue leather and suede interior will amaze. The two-tone seats feature blue accent stitching along with seat and steering wheel emblems and the numbered plaque featuring the 1963 Corvette Grand Sport is one of the best designs yet.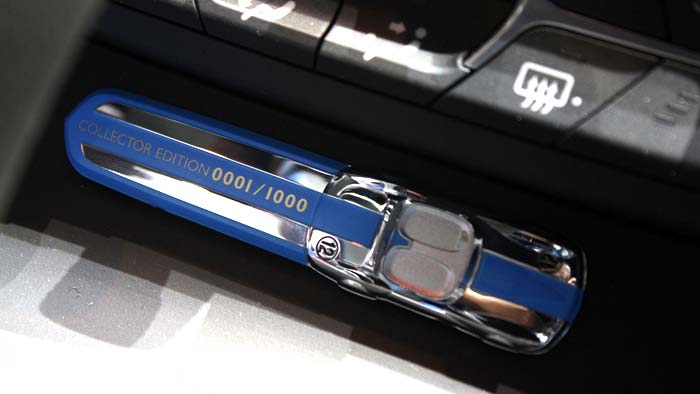 The Z25 RPO adds $4,995 to the cost of a 3LT-equipped Corvette Grand Sport Coupe or Convertible and so the 2017 Corvette Grand Sport Collector Edition models will start at $80,190 for the Coupe and $84,190 for the Convertible. The ultimate Grand Sport Collector Edition Corvettes can also be equipped with the Z07 Performance Package which would add an additional $7,995 to the price.

Source:
Chevrolet

Related:
Only 1,000 Corvette Grand Sport Collector Edition Models Will Be Offered
Official Pricing for 2017 Corvettes is Now Available
Chevrolet Introduces the 2017 Corvette Grand Sport