Don't look now, but we're just 2 weeks away from the 2016 edition of Bloomington Gold already. If you're preparing a car for judging like this blogger you best get back into the garage and get back to work (right after you finish reading this article). The 2nd round of Bloomington Gold at the Indianapolis Motor Speedway runs from June 23rd through June 25th.
Those of you're looking to get out on the historic Indianapolis Motor Speedway track plus go for a cruise with several hundred of your closest Corvette friends will be excited to know that the GoldTour will have an all new route this year.
As usual, the tour leaves the show on Saturday night. Like last year, the road tour will again start with a parade lap around the iconic 2.5 mile Indy oval track. After driving under the grandstands, the line of Corvettes will head out along West 16th Street and Crawfordsville Road onward to Eagle Creek Park which is one of the largest city parks in the country. Once inside, the GoldTour will follow scenic a 3-mile loop among the trees and beauty of the park. Upon exiting the park it's back towards the equally scenic Indianapolis Motor Speedway.
Pre-registration for the Road Tour closed June 1st, but you can still register at the track during the show. Cost is just $10 and the first 500 people that register will receive a commemorative plate.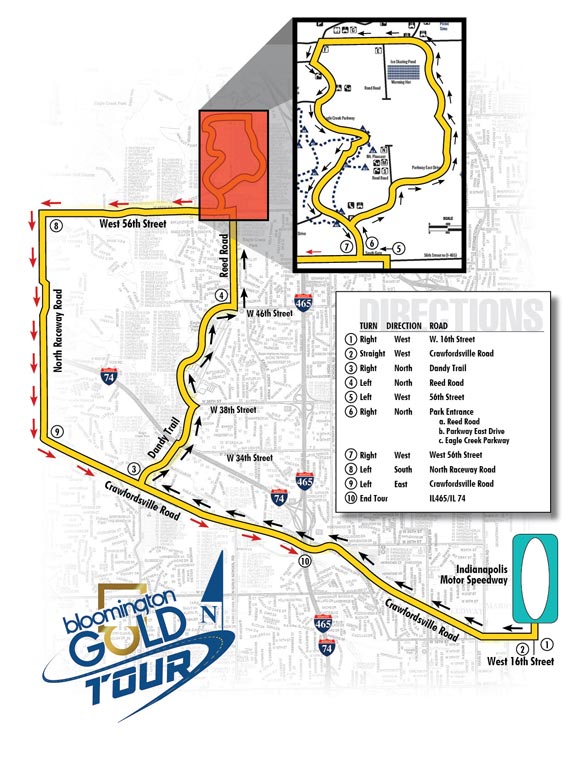 Click here to download a map of the 2016 Bloomington GoldTour.
Wanna see what hundreds of Corvettes leaving IMS looks like? Check out video from last year's GoldTour.

Source:
Bloomington Gold

Related:
[VIDEO] All About Bloomington Gold
[VIDEO] Watch the Entire Bloomington GoldTour Leave the Indianapolis Motor Speedway
[VIDEO] Performance Data Recorder Footage from GoldSpeed at Bloomington Gold