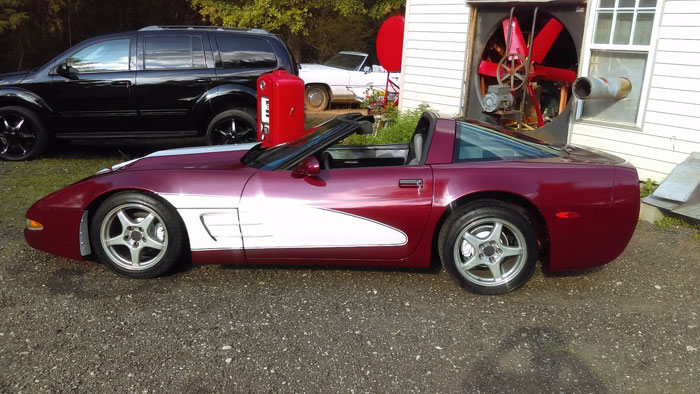 Here's a "50th anniversary edition" Corvette that you've probably never seen before.
Currently up for sale on eBay, this is a 1987 Corvette that has been fitted with a 2003 Corvette styled body kit – sort of what might happen if a C1 and a C4 and a C5 all had a baby!
The car has just 79,000 "true miles," according to the seller, along with a 350 V8 with tuned port injection, automatic transmission, AM/FM/CD stereo (which "sounds great"), removable glass top with no leaks, and power windows and seats.
"Runs and drives like new," the seller boasts.
Listed as being in excellent condition are the maroon, gray and black interior and exterior maroon paint job accented with white coves and a white stinger hood reminiscent of the 1967 Corvette.

As the seller concludes, "I bet you no one else will pull up to the red light in the same car anymore." The auction for this 1987 Corvette closes on Tuesday, June 14th at 2:02 pm EDT.

Source:
eBay

Related:
California Super Coupes Brings C7 Styling to the C5 Corvette
Rare 1991 Shinoda Mears Corvette Heading to Mecum Chicago this Weekend
Supervettes Unveils SV8.R Conversion Kits for C6 and C7 Corvettes