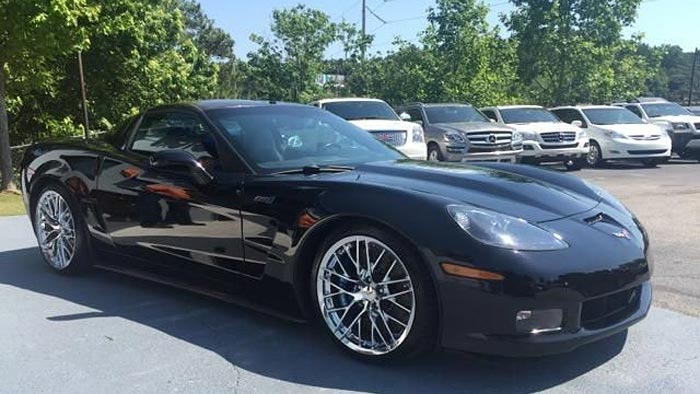 Corvettes have always been noted for delivering high performance at a bargain price.
The sixth-generation ZR1 – the most powerful Corvette ever made…until the appearance of the 2015 Z06 – is definitely living up to that standard, especially these days.
We've been considering the purchase of a new C7 ourselves, but every once in a while, we get a wild hair and start searching the Web to see just how low 2009-13 ZR1s have plummeted. Maybe, just maybe…
We aren't the only ones who think the ZR1s are a sweet deal right now, however. Some of these Corvettes listed in the neighborhood of $125,000 brand new, but not any more.
Car Buzz says they recently did a little searching of their own and found a 2010 ZR1 in Birmingham, Alabama for less than $50,000 – well, not much less, but still $49,887 is quite a sweet deal for a car that started out at $104,000 before options, don't you think?
We must not have been the only ones to recognize a good deal as between the time we spotted this ad and wrote this blog post, the Corvette had been sold and the listing removed from Cars.com.
This particular car does have a little over 75,000 miles on the odometer, but if you're just wanting a supercar to drive to church on Sunday morning or a cruise-in on Saturday night, this car could have been the one.
These days, preowned Corvette ZR1s are now bargain supercars for the everyman. Let's not forget all the standard goodies that came with a ZR1, including a carbon fiber roof, fenders, front splitter, and rocker moldings, not to mention blue carbon ceramic brakes and magnetic ride control. Everyone who matters will also know you've got a special car because the LS9's intercooler is clearly visible through a clear window in the hood.
You won't have to make any apologies in the performance department, either, as the 638-horsepower ZR1 actually hits a top speed of 205 mph, not to mention zooming from 0 to 60 in less than 4 seconds and covering the quarter-mile in only 11.7 seconds at 127 mph.
The biggest drawbacks about the ZR1, in this writer's opinion, are the fixed roof and the lack of the electronic goodies that come on the C7s. If you can overlook that, then a used ZR1 is definitely worth considering!
And before we leave, isn't it good to see a ZR1 that was actually used for the purpose Tadge & Crew made it for – i.e., driving like a bat out of you know where? Our own Internet search has found way too many ZR1s with less than 3,000 miles on the clock – kind of sad that they've just turned into expensive paperweights.
Although this bargain has already been claimed by a thrifty shopper, a quick search of C6 Corvette ZR1s on cars.com show several priced between $50,000 – $60,000, a far cry from the original $105,000 MSRP.
Check out those Corvette ZR1 listings here.

Source:
carbuzz.com

Related:
[VIDEO] Corvette ZR1 Runs 9.61 at 148 MPH at Bradenton
Holden Could Get the C6 Corvette ZR1's LS9 for its Commodore Flagship
[PICS] LG Motorsports Preps this C6 2013 Corvette ZR1 for the Track