The National Corvette Museum recently delivered their a 2016 Corvette with the new Admiral Blue exterior, the first R8C Museum Delivery for the new 2017 color that got a start a bit earlier than normal. That Admiral Blue Corvette was ordered by Scott Sloan of Battle Creek, Michigan through our friend Mike Furman at Criswell Chevrolet in Gaithersburg, MD.
According to Furman, ordering the 2016 Corvettes with Admiral Blue was very limited. "Not every dealer was able to get allocations of the 2016 Admiral Blue, and there was only a two week ordering window for that color," Mike said in an article about Scott's R8C delivery at the National Corvette Museum. "We had a total of maybe seven Admiral Blue 2016s ordered through Criswell," he added.
So just how many 2016 Corvettes were built in Admiral Blue?
Corvette Product Manager Harlan Charles said that ordering for 2016 Corvettes is now complete and a total of 336 Corvettes were painted Admiral Blue – 221 Stingrays and 115 Z06s. He then explains how they were able to get an early start on the new color:
"We are allowed up to three color changes per year, so Admiral Blue was our third color change for 2016. This then allowed us three more colors for the 2017 model year."
Harlan said that offering Admiral Blue at the end of 2016 helps the Corvette Assembly Plant stagger the new color introductions for assembly.
"I've been doing this for 38 years and don't remember GM allowing you to order a color coming out the following year," said Furman. "It was pretty special I'd say."
Now that Criswell is receiving the new Admiral Blue cars, he has shared this comparison photo of the new C7 Admiral Blue next to a Le Mans Blue C6 Corvette. About that comparison, Mike said, "There's no metallic in the 1996 Admiral Blue but there is in the new one, so it's actually very close to the 2004, 2005 and 2006 Lemans Blue Corvettes."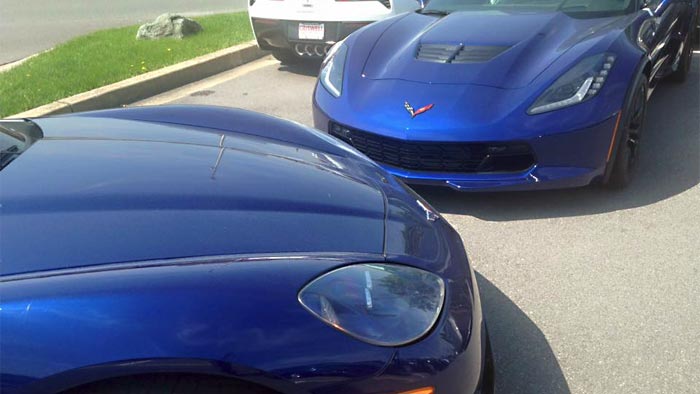 So congratulations to Scott on his new Stingray and now that we know how rare that color is, I am sure that will make it even more enjoyable in the future.

Source:
National Corvette Museum

Related:
[PICS] Kerbeck Shows Off New Admiral Blue 2016 Corvette Stingray
New 2017 Admiral Blue to be Available During Final 2016 Corvette Production
Harlan Charles Confirms the Return of Admiral Blue on 2017 Corvettes