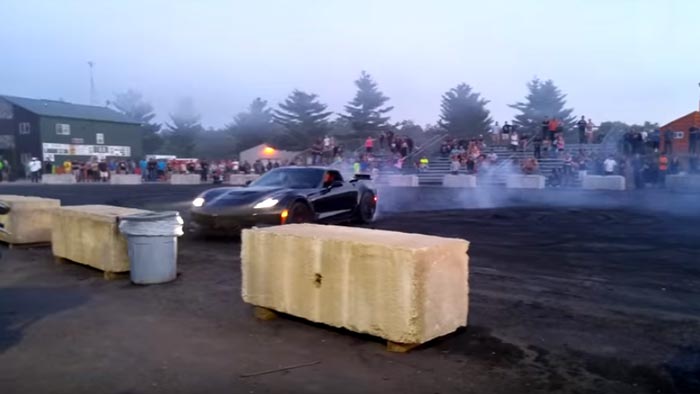 Automotion 2016 is an automotive event and car show held at Wisconsin Dells, WI., the Waterpark Capital of the World! In addition to the Automotion cruise and car show which attracts over 1,200 vehicles, there are events set up which allow people to show off their mad driving skillz cars.
During one such event, the Z06's 650 horsepower combined with sticky Michelins launched this black Corvette directly into a retaining wall after the driver completed his first donut.
The sound of the Corvette Z06's nose crunching the wall is a horrible sound to any Corvette fan, and as the driver and passenger exited the vehicle, there was a large amount of smoke in the cabin which may have obstucted the driver's view.
While this Corvette fail is instructional for what not to do when attempting to sideshow, we hope the only thing hurt was the driver's pride and that his Corvette will be back on the road again soon.

Source:
YouTube.com

Related:
[ACCIDENT] Peer Pressure to do a Burnout Leads to a Wrecked Corvette
[VIDEO] Turkish Corvette Burnouts End with a Resounding FAIL
[VIDEO] Aftermath of the Chrysler SRT8/Corvette ZR1 Fail