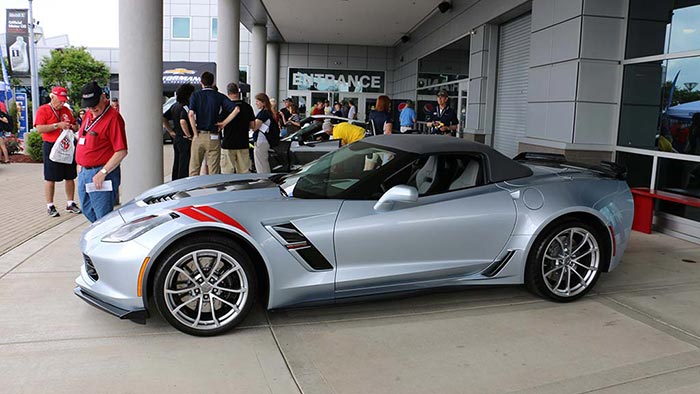 Next up at the NCM Bash is our first look at a new color that was very much a surprise to us when we first saw it. The rumor mill suggested a very dark blue, but that never made much sense to us as the new Admiral Blue fills that role just fine. Instead, Chevy went light with the color and perhaps the best way to describe it is Silver Blue.
We really like how Chevy set up this example. The Grand Sport Convertible features the Z15 Heritage Package with a Gray convertible top and Silver Grand Sport Cup wheels. It wears the Sterling Blue exterior very nicely and we like the black hood stinger graphic combined with Gray hood vent and the Torch Red hash marks against the new color. The Sterling Blue allows the C7's trim to add a nice contrast as well which we felt was somewhat lost when checking out the new Black Rose Metallic.
One other feature to go unnoticed until today was the Grand Sports have a silver aluminum graphic inside the car near the center navigation screen and the dash plaque for the Grand Sport is one of the best we've seen yet from GM.
Click here to see photos from the debut of Black Rose Metallic which Chevy is featuring on a 2017 Corvette Grand Sport Convertible.

Related:
[PICS] New Sterling Blue Exterior Color for 2017 Debuts at the NCM Bash
[PICS] The Corvette Assembly Plant Manager's 2017 Corvette Grand Sport
2017 Corvette Order Guide Details New Corvette Options and Colors
[PICS] Black Rose Metallic Returns to the 2017 Corvette