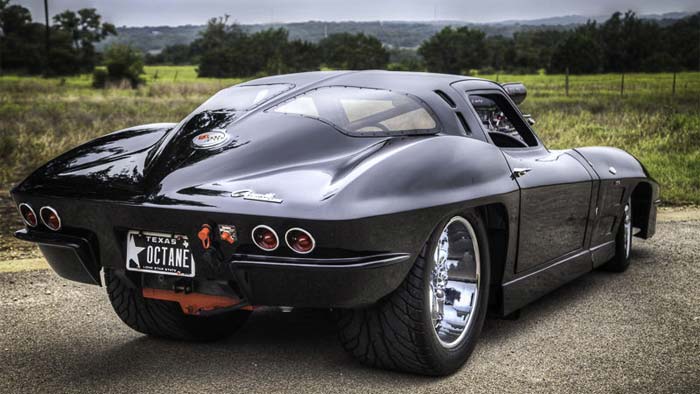 Like many enthusiasts, I've always lusted after a 1963 Corvette Split Window.
This may be my favorite SW of all time, though. The rear view of this black beauty featuring a Harry Glass 63 Corvette Replica fiberglass body is out of this world, with those monstrous 31 x 18.00 R20LT Mickey Thompson Sportsman tires bearing the load.
The best part of all, though, is the price on this restomod beauty that is up for auction on eBay at the very reasonable "Buy It Now" price of just $115,000.
You may say that's a lot of money, but we've seen other restomods go for much more money that didn't get our blood boiling nearly the way this one does.
That sensuous fiberglass body – which is riding atop a custom built frame by Lou Fegers Racing with 1½, 1¾, and 2" by 4" powdercoated DOM and Chrome Moly Tubing – has been covered with a basecoat of PPG 9700 Jet Black, then topped off with six clear coats. Stunning!

Not surprisingly, the car has been honored with Best of Show titles at many Central Texas car shows.
We'd love to hear the 502 cubic inch Big Block Chevy engine roar to life, with all of its many upgrades, including
Crank: Eagle Forged Steel – Balanced and Blueprinted
Rods: Eagle H Beam Steel Billet – Balanced and Blueprinted
Pistons: J & E Forged Blower Pistons – Balanced and Blueprinted
Rings: Super Seal, Bearing: Super Seal
Heads: Brodix Aluminum BB2Xtra, All bolts and Studs are ARP
Cam: Isky Roller Cam & Lifters
Timing Set: Isky Double Roller
Valve Cover by Grannatelli: Black Powder Coated Aluminum
Headers: Custom Built by Kooks
Numerous other upgrades on the pro street 1963 Corvette have been made to Blower and Induction, Transmission, Rear End, Rear Suspension, Independent Front Suspension, Driveshaft, and Fuel Cell.
The custom interior features Polished Steering Column, Custom Leather Steering Wheel by Grant, Carbon Fibered Dipped Dash, Holley Digital Dash, Holley LCD Touch Screen for EFI Tuning and Additional Gauges, Crow 3" Kamlock 5 Point Black Seat Belts, and Sound Proofing with Dynamat Xtreme Padding.

Nicely done! Our kudos to the creator of this masterpiece!
The ebay auction for this Pro Street 1963 Corvette Split Window replica ends on Friday evening at 10:20 ET.

Source:
eBay

Related:
Corvettes on eBay: Bill Mitchell-linked 1980 Corvette for $250,000
Corvettes on eBay: Barn Find 1963 Corvette with John Greenwood Built 427 V8
Corvettes on eBay: A 1976 Can-Am Corvette Sport Wagon